Rooms for romance
Here's where to go for the perfect getaway with your sweetie.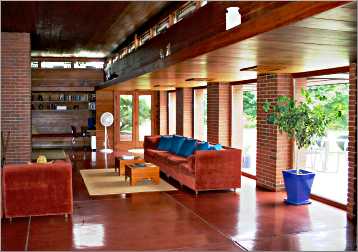 When anniversaries, birthdays and Valentine's Day roll around, swains everywhere wonder where to take their sweethearts to celebrate.
Of course, it has to be somewhere romantic. But what's romantic? To many, it's the floral Laura Ashley look, with lots of lace, patterned wallpaper and antiques.
To others, it's a rustic cabin in the forest, minus the heart-shaped whirlpool but with loads of privacy and atmosphere.
Some prefer a sleeker, more contemporary place, such as the Arts and Crafts-style Hotel Pattee in Perry, Iowa, or the Bernard Schwartz House in Two Rivers, a Life magazine "dream house" designed by Frank Lloyd Wright.
And there are inns with classic Victorian exteriors, such as the many painted ladies in Stillwater, Minn.
In the end, however, decor has very little to do with romance, because romance is what you bring with you.
Here are a few places likely to aid and abet l'amour.
History and architecture buffs
If the Hotel Pattee were anywhere but the central Iowa town of Perry, it would be mobbed.
One of the National Trust's Historic Hotels of America, it has a drop-dead gorgeous Arts and Crafts interior, 1913 bowling alley, spa, restaurant and 40 rooms, each elaborately decorated to honor a particular person or ethnic group.
Check for specials. Arts and Crafts fans will want to reserve the William Morris or Gustav Stickley rooms.
In north-central Iowa, Mason City has opened the world's last remaining Frank Lloyd Wright hotel. Now called the Historic Park Inn, it gleams with Wright-designed art glass, sconces, skylights and polished wood.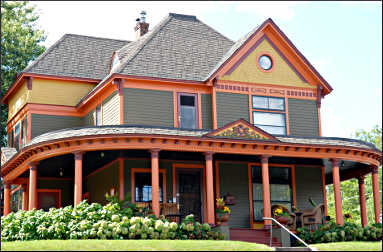 In a quiet neighborhood of the Lake Michigan town of Two Rivers, Wis., the brick and cypress Bernard Schwartz House was designed in 1938 by Frank Lloyd Wright.
Wright called the four-bedroom house Still Bend for its site along a marshy stretch of the East Twin River.
And on a bluff overlooking Mirror Lake, in Mirror Lake State Park just south of the Wisconsin Dells, the 1958 Wright-designed Seth Peterson Cottage sleeps four.
Bar crawlers
If you want to stay up late and mingle with the beautiful people, book a room at Loews Minneapolis Hotel, formerly Graves 601, a boutique hotel across from Target Center in downtown Minneapolis.
There's a martini lounge and first-class restaurant downstairs, and the beds are like clouds.
If you'd like some live music with that martini, book at one of four Irish inns. In the eastern Wisconsin town of Plymouth, 52 Stafford is an 1892 hotel renovated into a Irish inn with a beautiful restaurant and pub that feature cherry millwork and Celtic-themed stained and etched glass.
It has two sister inns with pubs, St. Brendan's in Green Bay and County Clare in Milwaukee.
And in Galena, Ill., the Irish Cottage Boutique Hotel features Frank O'Dowd's Irish Pub, where the live entertainment includes a short set by Irish dancers every Friday and Saturday night.
Artistic types
If you'd rather have an art gallery than a bar downstairs, rent an art loft. In the southeast Minnesota village of Lanesboro, the Art Lofts occupy the floor above Cornucopia Art Center in an 1870s brick building.
Each suite has a living room and kitchen and sleeps six.
In Galena, the Gallery Guest Suite includes a living room, kitchen and private entrance above Carl Johnson's Gallery on Main Street.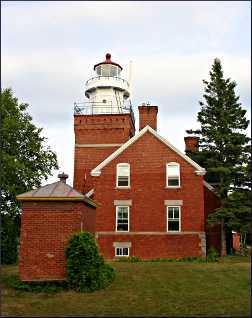 Outdoorsy folks
If you like luxury as well as that rustic north-woods atmosphere, head for historic Wisconsin lodges and historic Minnesota lodges.
To be truly close to nature (and save money), rent a cabin in a state park. In Minnesota's Wild River State Park, there's a guesthouse with a wood-burning fireplace, and Tettegouche State Park rents a large modern cabin at the top of Illgen Falls.
They book up 120 days in advance. For more, see Lodgings in Minnesota state parks.
Fans of Victoriana
If you like the turn-of-the-century look, you're in luck — that's pretty much all you can find in the B&Bs of Stillwater and Dubuque, Iowa, river towns where lumber barons built mansions filled with the best parquet and carpenter's lace money could buy.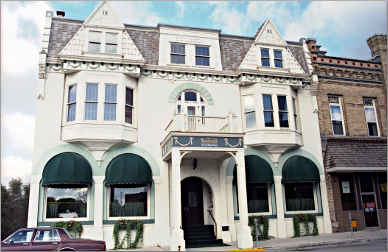 For more, see Summer in Stillwater and Destination Dubuque.
Galena also has many Victorian inns. So does the southeast Minnesota village of Lanesboro, where the 1889 Scanlan House is perhaps the most over-the-top traditional Victorian B&B in the state.
Duluth, which in the 1910s had more millionaires per capita than any other city, also is a trove of Victorian inns.
Lighthouse lovers
For some reason, many people think inns on desolate, wind-whipped points and cliffs are romantic.
On moody Lake Superior, three inns occupy old keepers' houses from Two Harbors, Minn., to the Keewenaw Peninsula.
Privacy seekers
Many inns and B&Bs rent carriage houses or cottages and bring breakfast to the door, so guests needn't be sociable if they're not in the mood. For a list of good ones, see A cottage of one's own.
There are also hundreds of private homes available for rent. For tips, see Renting a vacation house.
Last updated on July 2, 2020