15 great late-fall getaways
It's the mellowest time of the year, when hotel rates drop with the leaves.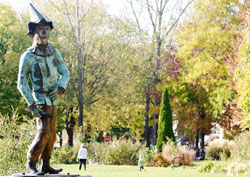 Late fall — when crowds fade and hotel deals appear — is one of the best times to make a getaway.
For hikers, it's the sweet spot between the fall-color rush and hunting season. For shoppers, it's the time to get a head start on the holidays, before the craziness starts.
More often than not, the weather still is gorgeous, and stubborn oaks and willows offer color that lasts into the middle of November.
The more popular a destination is in summer, the more likely you'll find great hotel deals in late October and November.
Here are 15 great places to go for a late-fall getaway.
Wisconsin
Sure, there's a lot of shopping, but the most fun thing to do here is walk the 21-mile lakeshore path, which passes through the front yards of Gilded Age mansions. Roses, hydrangea and snapdragons bloom throughout October.
If weather is good, go horseback-riding or ride a zip line. If it's not so good, go on one of the free Saturday tours of the Yerkes Observatory, which has the world's largest refracting telescope.
Grand Geneva Resort offers haunted hay rides and trail rides from its stables, and its Timber Ridge Lodge has a small but nice indoor water park.
Big cities always are great to visit in late fall, when their cultural seasons are in high gear. I first visited Milwaukee in early November, when willows along the lakeshore still were bright gold.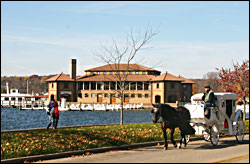 People thronged the sidewalks, along Jefferson Street near Cathedral Square, in the Historic Third Ward, around the Milwaukee Bucks arena and on Old World Third Street.
Downtown, people were converging on the gold doors of the Pabst Theater and at the Riverside Theater. I wanted to hear the Milwaukee Symphony Orchestra play Beethoven's Ninth at the Marcus Center, but it was sold out.
Milwaukee was just like a little Chicago — except it was easy to find free or cheap parking.
There are also many fun places in the countryside between Milwaukee and Lake Geneva to visit in late fall: Mukwonago and East Troy, for rides on the East Troy Electric Railroad, Old World Wisconsin near Eagle; and Ten Chimneys in Genessee Depot.
Thanks to Badgers football, the very air of this college town pulses with excitement on fall weekends. Hotel rates skyrocket for home games, however, so  you may want to avoid those weekends if you're not going to the game.
It's a great town for shopping, in the museum shops and offbeat stores on State Street and in the global boutiques along Monroe Street. There's always a concert, play or traveling Broadway show at the Overture Center.
The Dane County Farmers Market on Capitol Square runs Saturdays through mid-November, then moves into Monona Terrace for the Holiday Market.
There are two big indoor arts markets in November, the Winter Art Fair Off the Square at Monona Terrace and the Art & Gift Fair at the Madison Museum of Contemporary Art.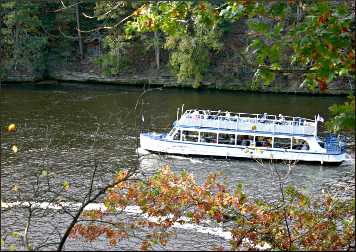 The indoor water parks know all about the Minnesota school break, so you won't find deals there until after the third weekend in October.
But you can stay at a log cabin at Birchcliff Resort and hike through woods down to the Wisconsin River. You can go out on daily Dells Boat Tours until the end of  October, and on weekends there are Ghost Boat tours into haunted canyons.
And little kids will adore the narrow-gauge Riverside & Great Northern Railway, which runs through the woods through October and on Thanksgiving weekend.
The crowds fade away by the end of October, but the Door Peninsula stays warmer than the rest of Wisconsin and keeps its fall color longer, thanks to Lake Michigan.
Visit the eight wineries on the Door County Wine Trail, pick up goodies at a farm market or hike in five state parks and 28 state natural areas. In Fish Creek, Jack 'O Lantern Days is the last weekend in October.
Illinois
Like Milwaukee, Chicago is on Lake Michigan, whose waters keep the cities warm for a few weeks longer than the rest of the region.
Hotel rates drop precipitously after the Chicago Marathon on the second weekend of October, but watch for big conventions that goose the rates upward.
This city is fun any time of year, but Halloween is a huge deal.
In November, go on a food tour or one of the Chicago Architecture Foundation's walking tours.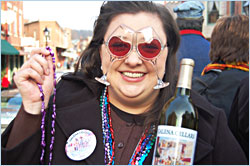 This is a classic girlfriend-getaway destination. You can barely find a room in September and early October, when the town holds several big festivals, but crowds ease later on.
There's still a lot going on, especially over Halloween, when there's a parade, and for Nouveau Wine Weekend on the weekend before Thanksgiving.
And late fall is a good time to drive in the countryside, especially the ridges east of town, which are lined with oaks that retain their leaves well into November.
Minnesota
This college town is much quieter, though the St. Olaf-Carlton football game generates some excitement. Carlton's stadium is right next to its Arboretum, a lovely place to hike in late fall, when the gnarled branches of oaks show black against the sky.
There's a nice selection of small, independent shops on Division Street downtown. And there's always a free concert to attend at St. Olaf College, which is world-renowned for its music program.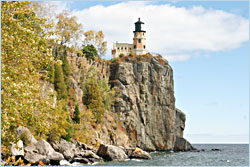 This part of Lake Superior is beloved year-round, almost too much during summer and peak fall color. But certain people love it just as much in late fall, when skies turn threatening and the gales of November whip giant waves against the shore.
That's when you'll want to rent a cozy cabin with a big stone fireplace and a picture window.
Since most of the Superior Hiking Trail is closed for the firearms deer season in early November, we like to go between the Minnesota school break over the third weekend of October and the start of hunting in early November.
After that, during hunting season, hike instead on the Superior Hiking Trail in Duluth, where you also can watch salties and ore boats coming and going.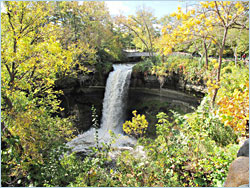 You can't get bored here, especially if you're a fan of craft beer or fine art. There are dozens of craft breweries in Minneapolis alone, with even more in the metro area. There's a cluster in northeast Minneapolis, which hosts the giant Art Attack studio tour and festival in early November.
In the downtown theater district, go to a Broadway musical or see a famous performer.
This pretty town along the St. Croix River is a favorite weekend destination for Twin Citians.
It's best known for its shopping, especially antiques and antiquarian books, and for the painted-lady Victorians perched on its hills. But it's also got wineries and breweries to visit and trolley tours to take.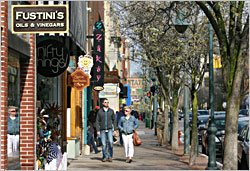 Michigan
The great thing about beach towns is that they're packed in summer — leaving lots of hotel rooms for the contrarians who come in late fall.
There's still a ton to do, but even so, this town on Lake Michigan offers fall specials from Labor Day to mid-December.
Get one and use your weekend to tour local breweries or follow the wine trails on the Leelanau and Old Mission peninsulas.
Tasting tours on the Leelanau wine trail are the first two weekends of November, and Traverse City Beer Week in mid-November.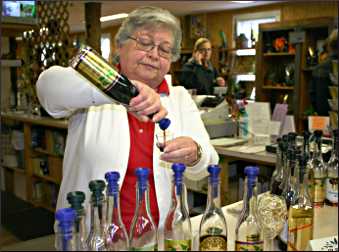 Iowa
In the rolling hills of southeast Iowa, plain-living and religiously devout German immigrants created two communities that contrast with the nearby college town of Iowa City.
The Amana Colonies, where people lived communally until 1932, are the best known. Today, the towns are a destination for shoppers, who also come to sample fruit wines, eat large family-style meals, learn about the history and see productions at two theaters.
You won't find any Amish around Amana, but you will in Kalona. Learn about them at the Kalona Historical Village or go see them at their shops in the countryside (but not on Sundays).
Last updated on October 22, 2021 ]