November girlfriend getaways
In the slow season, women head out to have fun with their friends.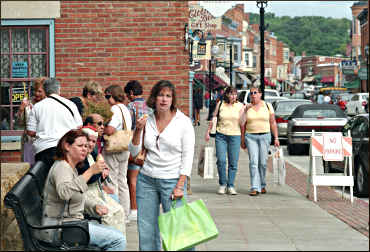 In November, women make a break for it.
As men sit in deer stands or watch football games on TV, women hit the road with their friends. They shop, visit spas, sip wine, take cooking classes and see musicals their husbands or boyfriends don't want to see.
For women, November is a great month. Not only do they have a good excuse to get away with their friends, but they can get a head start on shopping for Christmas.
There are art fairs and holiday markets everywhere. And festivities start early in such shopping meccas as Cedarburg, Wis., which starts its Festive Friday Eves on the eve of Wisconsin's firearms deer opener.
Broadway shows draw weekenders to Chicago and the Twin Cities. Galena is the perennial favorite for power shopping, but groups of girlfriends also sample wine, tour historic houses and take cooking classes.
Women who love the outdoors can join a snowshoe-making workshop or hike in the woods. Hiking won't be so fun after Minnesota's firearms deer season starts Nov. 4, but in Wisconsin it doesn't start until Nov. 18. In Michigan, it's Nov. 15-30.
Below are some of the best things to do around the region in 2023.
For the rest of the year, see 12 months of girlfriend getaways and 50 great girlfriend getaways.
Art fairs and crawls
In downtown Minneapolis, there's a Gift & Art Expo at the convention center Nov. 3-5. In the city's northeast arts district, 250 artists team up for Art Attack Nov. 10-12, which includes live music, food trucks and demonstrations.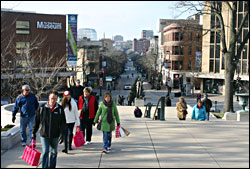 Madison always is a fun place to shop, in the quirky shops and museum stores along State Street and on more sophisticated Monroe Street. And in November,  big markets make shopping especially fruitful.
The Winter Art Fair Off the Square, featuring the work of 140 Wisconsin artists, is at Monona Terrace Nov. 11-12. Mini-versions of the Art & Gift Fair at the Madison Museum of Contemporary Art on State Street will be held on weekends throughout the month.
For more, see Shopping in Madison.
The Autumn Festival: An Arts & Crafts Affair, with 500 artisans from 30 states, is Nov. 9-12 at Canterbury Park in the Minneapolis suburb of Shakopee.
The Wisconsin Holiday Market is Nov. 17-19 at the American Club in Kohler. It tends to be heavier on crafts than fine arts.
For more, see Kohler's luxuries.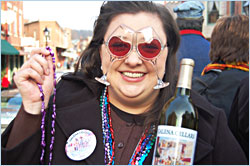 Indulgences
In the Lake Michigan town of Racine, between Milwaukee and Chicago, sample bacon-infused finger foods paired with craft beer while strolling downtown sidewalks Nov. 4 on the Beer & Bacon Walk.
On the other end of Lake Michigan, visit Traverse City during Beer Week, Nov. 10-17. The Michigan beach town also is a foodie destination and shopping town.
In the popular chick town of Galena, Nouveau Wine Weekend Nov. 17-18 includes tastings, music, vineyard tours and spa, shopping and lodging specials.
For more, see Galena getaway.
If you're worried about weather, look for a weekend where you never have to go outdoors. For weatherproof getaways, see Inn retreats.
Women's weekends
The villages of Stockholm and Pepin on the Wisconsin side of Lake Pepin, offer a Women's Weekend Nov. 3-5 with a dance party, champagne and tiaras drag brunch, demonstrations and holiday open houses.
For more, see Destination: Stockholm.
In Iowa's Amana Colonies, there's a Girls Getaway Weekend Nov. 3-5, with wine-tasting, antiquing and a five-course meal.
Roller derbies
It's a hoot to watch teams of fun-loving women on roller skates — dubbing themselves the Banger Sisters or the Kilmore Girls — elbow their way around the rink.
The Minnesota RollerGirls play a home bout Nov. 11 at Roy Wilkins Auditorium in downtown St. Paul.
Madison teams play at the Alliant Energy Center and the Windy City Rollers in the Chicago suburb of Lombard.
Art classes
In the adorable town of Mineral Point, half an hour west of Madison, Shake Rag Alley School of Arts and Crafts holds lots of weekend workshops, where you can paint and make glass beads, wreaths and pottery.
This November, there are workshops on drawing for beginners, oil pastels, silver hollow beads and batiked enameled necklaces, among others.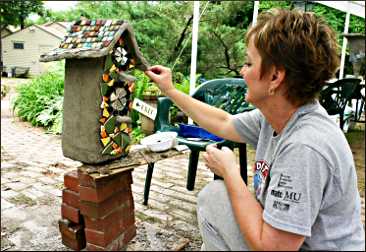 Lodgings are right in the Shake Rag campus, some in stone buildings from the 1840s.
For more, see Slinging cement in Mineral Point.
Shopping and a free concert
Less than an hour south of the Twin Cities, the college town of Northfield has an adorable downtown full of unique, locally owned shops.
Spend the day browsing, then take in a free concert at St. Olaf College, whose music program is world-renowned. The St. Olaf Philharmonia and the Norseman Band perform Nov. 12.
For more, see Feisty Northfield.
For other good places to shop, see Great shopping towns.
Wine tasting
Wine trails around the region, including the Mississippi River Valley and Michigan's Leelanau and Old Mission peninsulas, offer festive November events that involve sampling, touring and treats.
For more, see On the wine trail.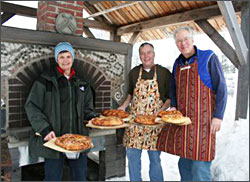 Cooking classes
There's wine, there's laughing, and then you get to eat. What could be better?
Many cooking classes are in places that are fun to visit anyway — Lake Geneva, Chicago, Door County, Minnesota's North Shore.
Book early, because they fill fast. At the Lake Geneva Cooking School, learn technique at Dinner Time, Wine Time: Tuscany, $150, and My Life in France With Julia Child, $125, among others.
For more, see Now they're cooking.
And if you just want to eat, go on a food tour — they're always a lot of fun.
For more, see Tours for foodies.
Folk schools
The North House Folk School in Grand Marais, Minn., is one of many folk schools that offer classes in all kinds of artisanry.
In 2023, its classes in November include rye bread-baking, wool rug-braiding, leather-stitching and table runner-felting. Mini-courses are offered during the Winterers' Gathering & Arctic Film Fest Nov. 16-19.
There are many other folk schools in the region. For more, see Schools of know-how.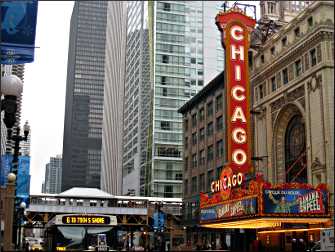 Broadway shows and concerts
The Minneapolis downtown theater district hosts many nationally known Broadway shows and singers and dancers, including Michael Flatley's Lord of the Dance Nov. 5.
The Marcus Center in Milwaukee hosts Broadway hits, concerts, ballets and plays, including "Harper Lee's To Kill a Mockingbird" Nov. 7-12.
In Madison, the Overture Center hosts music, opera, touring Broadway shows and theater and opera, including "Tosca'' Nov. 3-5.
In the Loop theater district in Chicago, "Company" plays Oct. 31-Nov. 12.
Chicago is a classic girlfriend destination, with lots to do. For more, see Chicago stories.
Outdoors
Women love horses, so this is a good time to take a trail ride and see the last of the fall color, too. Five miles west of Oregon in northwest Illinois, White Pines Ranch offers an Adults Only Weekend Nov. 3-5.
If you have the patience, make classic wood snowshoes for yourself or as a gift, while staying at a camper cabin in the middle of nature.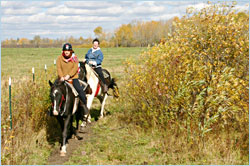 In Minnesota, Afton State Park near the Twin Cities often offers snowshoe-making classes and rents four camper cabins. Check the state-park events calendar for classes, hikes and other programs there and at other parks.
On the east shore of Lake Michigan, Ludington State Park offers snowshoe-making classes and rents three mini-cabins. Check Michigan's park events calendar for dates.
For more, see Choosing snowshoes and A roof in the woods.
Holiday festivities
Cedarburg, a postcard-perfect village 20 minutes north of Milwaukee, is a favorite destination for girlfriend getaways.
At Cedar Creek Settlement, a restored 1864 woolen mill, Festive Friday Eves start Nov. 17, featuring dancing, live music, puppet shows, appearances by Father Christmas, cookies and cider and luminarias.
For more, see Jolly Cedarburg.
Hanging out
Vacation rentals or cabins with many bedrooms are perfect for groups of women. In the north woods, many lodges and resorts, especially the larger ones, drop their rates by up to half in November.
For more, see Renting a vacation house.
Last updated on January 21, 2022