20 great spring hikes
The scenery along these lovely trails will put a spring in your step.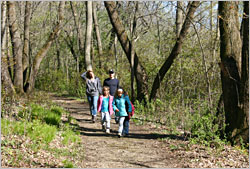 What's so great about hiking in spring? That's easy — there's so much to see.
Move your feet in any direction and you'll run across wildflowers, waterfalls and, best of all, sweeping views that last only until the trees leaf out.
Head out before summer makes its brash appearance, with walls of greenery and fleets of bugs.
Here are 20 great places to go hiking in spring. If you especially want to see a lot of spring ephemerals, see Where to find spring wildflowers.
It's too early to worry about mosquitoes or biting flies. But do protect yourself from ticks, especially the deer ticks that carry Lyme disease.
And if you'd rather explore by car, see 20 great spring drives.
Minnesota
Nerstrand-Big Woods State Park near Northfield. Just an hour south of the Twin Cities, this is the spot to go if you're new to spring ephemerals: It's got nearly every kind of woodland bloom, and a large identification guide to help you identify them.
They include thousands of trout lilies, and a few of the very rare dwarf trout lily. There's even a waterfall, with a pool where children like to wade.
Whitewater State Park near St. Charles. Farther south in bluff country, this park likely is the busiest in the state in May.
That's when morel hunters, fly fisherman and wildflower watchers converge on the park, surrounded by limestone bluffs. Like Nerstrand, it has some of nearly every woodland flower .
The best flowers are on the trail to the cart-in campsites near the Whitewater River. But the best views are from the hiking trails that scale the bluffs.
For a bonus, visit nearby Carley State Park, which has meadows of bluebells and hillsides covered by false rue anemone. It celebrates Bluebell Festival in early May, with guided wildflower walks.
Blue Mounds State Park near Luverne. Hike on the edge of quartzite cliffs to see prairie flowers at this dramatic park in the southwest corner of the state. Make a loop and you'll run across the resident herd of bison, which include babies in spring.
Look for prairie smoke, and later, you'll see the yellow blooms of prickly-pear cactus.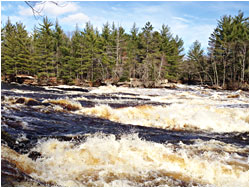 Banning State Park near Sandstone. This park, halfway between the Twin Cities and Duluth, is right off I-35. In spring, the Kettle River runs furiously, and if you're lucky, you'll see whitewater cowboys on its Class V rapids.
The 1.8 mile Quarry Trail follows the river. It's lined by rock outcroppings and includes the ruins of a rock crusher, powerhouse and cutting house.
Jay Cooke State Park near Carlton. In this park just south of Duluth, you'll find lots of wildflowers as well as lots of rushing water and a suspension bridge over the St. Louis River.
The park also is close to the southern trailhead of the Superior Hiking Trail.
Oberg Mountain between Tofte and Lutsen. This two-mile loop hike comes with gorgeous views of Lake Superior and sugar-maple forest and is most popular in fall. But in late spring, the trail is lined with a lovely selection of wildflowers.
The turnoff is at mile marker 87 on Minnesota 61. From there, take Forest Road 336, or Onion River Road, two miles to a parking area.
Cascade River between Lutsen and Grand Marais. The mouth of this river, just off the highway, is surrounded by masses of northern bluebells and fiddlehead ferns, and you can find many less-common blooms along the trails: goldthread, bluebead lily, Canada mayflower.
For a challenging eight-mile hike, follow river trails up to the County Road 45 bridge and back down. One Memorial Day weekend, we even found a morel along the trail.
For more, see Wildflowers of the North Shore, Waterfalls of the North Shore and Hiking the North Shore.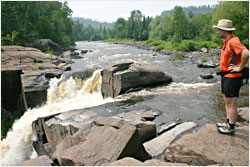 Ontario
High Falls from Pigeon River Provincial Park. A lot of people have seen Minnesota's highest waterfall from Grand Portage State Park on Minnesota's North Shore, and it's impressive in any season.
If you have a passport, cross the border and see it close-up and from the top. (Check to make sure the border is open.) The trail starts at the Ontario visitors center. It's really buggy in summer, so spring is a good time to hike it.
Wisconsin
Aldo Leopold's shack near Baraboo and John Muir's childhood farm near Portage. A visit to the sandy Wisconsin River plains to pay homage to these famous naturalists makes a great Earth Day road trip.
There are also serene nature trails at the International Crane Foundation near Baraboo.
Ridges Sanctuary in Baileys Harbor. This is nature preserve is paradise for anyone who loves wildflowers. The unusual topography — boggy swales interspersed with sandy ridges, next to Lake Michigan beach — make it home for many rare species, including the dwarf lake iris and Arctic primrose.
Boardwalks cross the swales, and winding paths take hikers through cedar forest. In June, look for 25 species of orchids.
Brady's Bluff in Trempealeau. The hike up this hill in Perrot State Park is as rewarding as it gets. At the shady, grotto-like base of the hill, you'll see all the shade-loving wildflowers, such as bellwort and Dutchman's breeches.
Climb a little higher, and you'll find the region's most spectacular display of fragrant jeweled shooting stars covering the hillside.
At the top, you'll see one of the Mississippi River Valley's most spectacular views, all the way upriver to Winona. You may even see a few pelicans and other migrating birds whooshing by, nearly at eye level.
For more hikes to great views, see Mississippi panoramas.
Ice Age National Scenic Trail across the state. The thing that makes this 1,000-mile trail across Wisconsin so cool are the landforms — eskers, drumlins, kames and kettles, all created by the retreating glacier.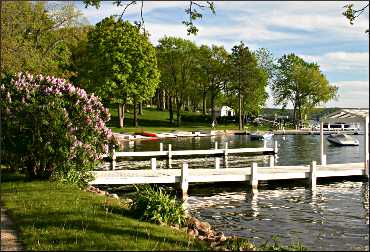 In the woods, they're best seen before trees leaf out and cloak them. Many of the best-loved hikes in the state are along this trail, including Devil's Lake and Parfrey's Glen near Baraboo and Dells of the Eau Claire and Rib Mountain near Wausau.
Lakeshore Path in Lake Geneva. This 20-mile walk through the yards of eye-popping historic mansions is gorgeous in spring, though you'll be seeing garden flowers, not wildflowers.
You may have to dodge docks waiting to be installed, but the landscaping is top-notch and the views non-stop.
If you don't have a shuttle, get one from Lake Geneva Cruise Line. On many Sundays, you can walk the eight miles from Lake Geneva to Williams Bay, where you'll be picked up and served a champagne brunch on the cruise back.
Illinois
Starved Rock State Park near Utica. This state park on the Illinois River, two hours west of Chicago, is magnificent in spring.
It's an easy stroll from the lodge to St. Louis Canyon on the Bluff Trail, which has one of the region's best display of jeweled shooting stars.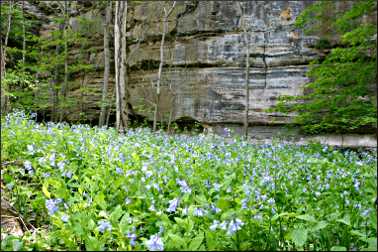 For a longer hike, drive to the other side of the park and walk to Ottawa, Kaskaskia and Illinois canyons, whose moist floors are covered with bluebells. And bring shoes that can get wet.
Most of the canyons have waterfalls in spring, with the most scenic in St. Louis, French, Wildcat, Tonty, Ottawa and Kaskaskia canyons.
White Pines Forest State Park in Mount Morris. In this gorgeous park just west of Oregon, the 1.2-mile Sleepy Hollow Trail follows ridges above Pine and Spring creeks, which it crosses four times, and in places has so many tree roots it's like walking over vertebrae.
Seven other trails wind through the park, some from the log White Pines Inn cabins and restaurant, which offers good deals in spring.
Iowa
Backbone State Park near Strawberry Point. A path circles Backbone Lake in this park in the northeast part of the state, on the edge of the Driftless Area. All kinds of wildflowers grow in the crevices of limestone outcroppings, on sunny sides of the path and in hardwood forest on the west side of the lake.
When we were there one Mother's Day, the park was gorgeous but nearly deserted. For more, see A cabin in Iowa.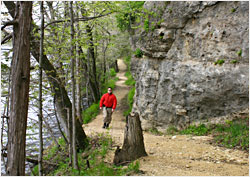 Phelps Park in Decorah. Closer to the Mississippi, this town in the bluffs straddles the Upper Iowa River.
On a hill above downtown, walk the one-mile trail in this park, which winds along the side of the bluff above the river and is lined with nifty limestone steps and pillars built by the Civilian Conservation Corps.
In early spring, it's also a great place to see wild ginger, whose fuchsia blooms usually hide at the base of the plant. Here, thousands of them pop out of the rocky hillside, pointing themselves toward the northern sun.
If you feel like a longer hike, walk on the paved, 11-mile Trout Run Trail. It loops around town, following the Upper Iowa to its confluence with Trout Run Creek, where pull-outs accommodate fishermen.
It also passes the fish hatchery that's home to the famous Decorah bald eagles, which raise their eaglets in their 6-foot, 750-pound nest.
Wapsipinicon State Park near Anamosa. The Wapsipinicon River runs through this lovely park east of Cedar Rapids, at the start of Grant Wood Scenic Byway. Trails are lined with spring ephemerals and rock cliffs.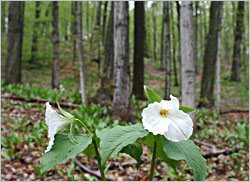 Michigan
Grand Traverse Commons Natural Area in Traverse City. Behind the castle-like Village at Grand Commons, a former state mental asylum that's now full of shops and restaurants, there's a hilly wooded area lined with trails.
In May, you'll see the region's fattest fat trilliums there, along with other wildflowers.
Black River waterfalls near Bessemer. Five spectacular waterfalls line the last three miles of the Black River before it flows into Lake Superior. A trail connects them, part of the North Country National Scenic Trail.
They're not far from Ironwood. To get there, follow County Road 513 from Bessemer on U.S. 2.
More
State natural areas often harbor rare wildflowers; for more about SNAs, see Spring in full glory.
For a road trip that takes in Nerstrand, Whitewater, Carley and Perrot state parks plus two state natural areas and a Rustic Road, see Road trip: Wildflowers of the Mississippi Valley.
For scenery by car or bicycle, see 20 great spring drives and 15 great trails to ride in spring.
Last updated on April 30, 2021