20 great spring drives
When weather warms, the urge to hit the road is irresistible.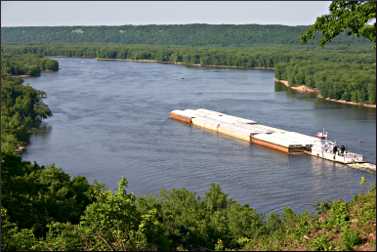 It's a beautiful spring day — finally. The trees are budding, the birds are chirping. What do you do?
Road trip! Somehow, the call of the highway is especially strong in spring. We want to feel the wind on our face and see something new and unusual.
There's a lot to do along the way: Walk through bluebells, spot birds, visit artist studios, sample cheese, watch a parade.
Here are 20 of the best spring drives in Minnesota, Wisconsin, Iowa, Illinois and Michigan.
And for even more, check out our Road Trips.
WISCONSIN
Wisconsin has one national scenic byway, the Great River Road along the Mississippi, and three state byways: the Lower Wisconsin River Road between Lodi and Prairie du Chien; the Door County Coastal Byway; and the Wisconsin Lake Superior Scenic Byway around the Bayfield Peninsula.
It also has two national-forest scenic byway, the Great Divide Highway between Hayward and Glidden in Chequamegon National Forest; and the Heritage Drive in Nicolet National Forest east of Eagle River and Three Lakes.
Whenever I'm in Wisconsin, I check out whatever Rustic Road is nearby. They're scenic, lightly traveled roads, many of which preserve remnants of the past — lighthouses, one-room schoolhouses, country churches.
My favorites in spring are the wildflower-lined Rustic Road 51 near Maiden Rock and Rustic Road 21, which leads to the sandstone arch of Natural Bridge State Park near Baraboo. But they all give you a good excuse to go exploring.
Maps and descriptions of the 117 Rustic Roads are online.
In southwest Wisconsin, three towns have maintained the Old World traditions brought by the first settlers.
This is a drive where you want to bring an appetite (and a cooler). Start in the Swiss village of New Glarus, half an hour southwest of Madison (beer, pastries, sausages, chocolate, cheese).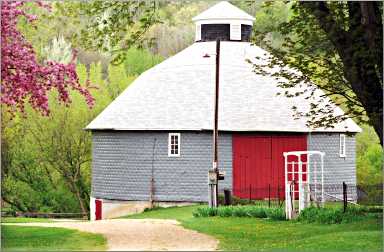 Head west on Wisconsin 39, stopping just west of Hollandale to see the wonderful Grandview folk-art sculptures.
For more around the state, see Road trip: Wisconsin's concrete art.
Continue to the Cornish village of Mineral Point (pasties, figgyhobbin, saffron cake, cheese).
Take Wisconsin 23 south to Darlington, then Wisconsin 81 east to the Swiss town of Monroe (cheese, beer, fruit). It's a totally delectable tour.
In spring, the avian freeway to the north runs right over this Everglades of the North, southwest of Fond du Lac. On the ground, humans take the 50-mile Auto Tour or bike around the marsh.
The route passes state and federal visitors centers, hiking trails and overlooks with spotting scopes. Rustic Road 106 is off the northeast part of the marsh, and on the west side, the route parallels the Wild Goose State Trail.
In May, you'll catch the Horicon Marsh Bird Festival, which includes tours, hikes and bird-banding demonstrations that are very beginner-friendly.
In a mere half-hour of driving, you can see some of the environmental world's most historic landmarks — and spring is the best time to do it.
John Muir's family farm now is a county park north of Portage. From there, cross the river to Levee Road, much of it Rustic Road 49.
Drive west to the Aldo Leopold Center and the naturalist's famous shack, the only chicken coop on the National Register.
Then drive down Shady Lane to the International Crane Foundation and take a guided tour of the enclosures where at least one of all 15 of the world's cranes live. Wander along the trails, which are lined with wildflowers in spring.
And for a bonus, head past Baraboo and south to Parfrey's Glen, a spectacular little gorge that was Wisconsin's very first official natural area.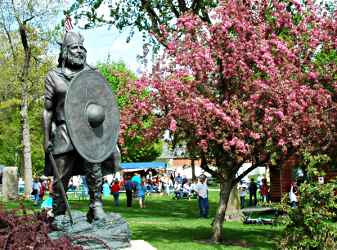 In the coulee country southeast of La Crosse, unyielding rock dictates the famously crooked course of the Kickapoo River
This is the Driftless Area, and mile for mile, it's the most picturesque in Wisconsin. Here's a loop that takes in many of the highlights.
From Ontario, follow the Kickapoo south on Wisconsin 131, past Wildcat Mountain State Park.
Turn west on rolling County Road P, which will take you through Dell and past the blue Evanstad round barn, which in spring is framed by flowering trees. Head north on County Road D to Old Country Cheese; stop and buy some curds.
Keep going driving north; you'll come out onto Wisconsin 33 near Cashton. Take it east back to Ontario, stopping to shop at the many Amish farms on the way (unless it's Sunday).
You also can continue south on Wisconsin 131 to the Kickapoo Valley Reserve, a green zone for fishing, hiking, canoeing, bicycling and bird watching.
Keep going past apple orchards and you'll come to Gays Mills, which holds its Spring Festival in May.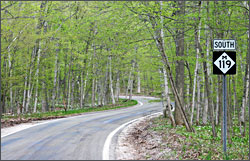 WISCONSIN/MINNESOTA
Continue through the Driftless Area and across the Mississippi River.
May is the biggest month on the Norwegian-American calendar, and May 17 the biggest day. That's Syttende Mai, the day in 1814 when Norway declared independence from Denmark and adopted the most democratic constitution in Europe.
Every Norwegian town worth its sandbakkels celebrates it. In the Driftless Area, you can catch the Syttende Mai festival in Westby, Wis.
Across the Mississippi River, Decorah, Iowa, always celebrates Syttende Mai on May 17.
This wide spot in the Mississippi River is a perennial favorite. From Red Wing or Bay City, drivers on the road to Wabasha are never without a view of blue water, green hillsides and limestone bluffs.
It's only 70 miles around, but there are too many places to see in one day: the bakeries and galleries of Maiden Rock and Stockholm, the National Eagle Center in Wabasha, the warblers and wildflowers in Frontenac State Park.
The area is especially busy the first weekend of May during the 100-Mile Garage Sale. In early June, people can visit art studios and gardens on the Wisconsin side during the Fresh Art Spring Tour.
This river, which joins the Mississippi at Prescott, Wis., forms the border of Minnesota and Wisconsin and is less than an hour east of the Twin Cities.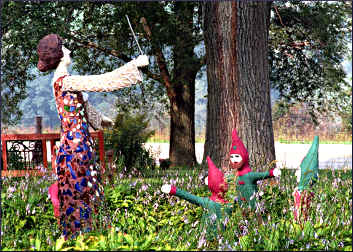 From Prescott, cross the river and head up the Minnesota side to Afton and Afton State Park. Next up, hillside Stillwater has as many shops and bistros as anyone could want.
In Marine on St. Croix, stop for pizza, coffee or ice cream, and hike around Lake Alice in William O'Brien State Park.
In Taylors Falls, weekend boat tours of the scenic Dalles start in May.
Across the river in Wisconsin, artists in and around St. Croix Falls open their studios for the Earth Arts Spring Art Tour the first weekend of May. On the Minnesota side, more than 50 potters show their wares during the Pottery Studio Tour the second weekend of May.
MINNESOTA
Minnesota has 10 state scenic byways, eight national scenic byways and three national-forest scenic byways. For more, see Minnesota's scenic byways.
Spring ephemerals and Northfield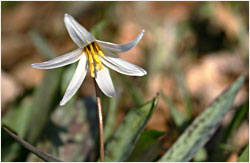 Less than an hour south of the Twin Cities, this college town always is a good candidate for a drive.
There's an interesting assortment of shops on Division Street, and it's always fun to visit the Historical Society Museum and see the video re-enactment of the infamous Jesse James bank raid.
Spring is a good time to go a little farther to see one of the region's best displays of spring wildflowers, at Nerstrand-Big Woods State Park. From downtown, take Division Street (Minnesota 246) south to County Road 40 and into the park.
South of Rochester, the scenery starts. Hills sport outcroppings of golden limestone, roads wind up and down and Amish buggies mingle with other traffic.
May is a big month around Lanesboro, Harmony and Preston, as trout fishermen, turkey hunters, bicyclists and morel-mushroom pickers all converge on its picturesque countryside.
Artists throw open their studios during the Bluff Country Studio Arts Tour on the last weekend of April.
Lanesboro's Saturday-morning farmers' market, which features many Amish vendors, starts the first Saturday in May. On the third weekend in May, Preston celebrates Trout Days.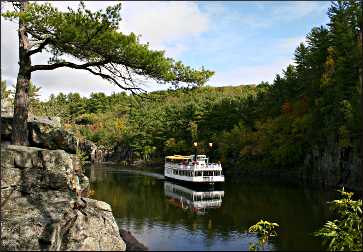 Follow Minnesota 16, also the Historic Bluff Country Scenic Byway.
In spring, the shores of Lake Superior can be 20 degrees cooler than anywhere else in the state. The payoff is in the massive waterfalls cascading through river gorges and into the big lake.
Start at Gooseberry Falls State Park and work your way northeast, all the way to 120-foot High Falls on the Pigeon River, if you have time. Often, you'll even see dozens of "pop-up" waterfalls spurting out of roadside rock walls.
In northwest Minnesota, Otter Tail County has not only more lakes than any other county in Minnesota, but also the region's densest concentration of giant mascots.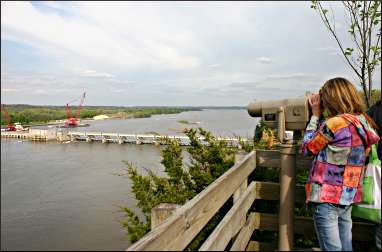 Watch for a giant otter, a pelican and a warrior.
In the tiny village of Vining, there's a giant foot with an oversized big toe, a square knot, a 20-foot clothespin, a pliers gripping a cockroach and, our favorite, a coffee mug held up by a stream of molten java.
They're all stops on the Otter Trail Scenic Byway. You'll also find two state parks, the picture-postcard Phelps Mill and and Inspiration Peak, the state's second-highest point.
NORTHERN ILLINOIS
Illinois has seven national scenic byways, including a 435-mile segment of the famous Route 66.
The 179-mile section that crosses Illinois is a national scenic byway, its route punctuated by historical murals in 30 towns.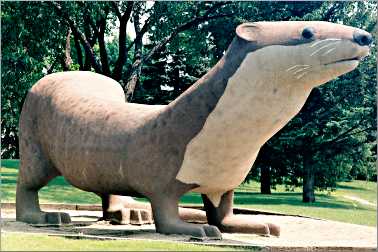 Linking New York's Times Square with Lincoln Park in San Francisco, it became known as "The Main Street Across America."
From Chicago Heights, the route heads east to Joliet, then along the Fox River to Aurora, Batavia and Geneva. Then it heads west to DeKalb, Rochelle and Dixon, hitting the Mississippi River at Fulton.
There's another great river road, and it's 291 miles in two sections. The northern section of the Illinois River Road starts in Ottawa and heads west along both sides of the river, passing Buffalo Rock, Starved Rock and Matthiessen state parks before heading south to Chillicothe and Peoria.
This stretch of river is lined by natural areas and wildlife refuges. Starved Rock State Park is a must-stop. In May, waterfalls cascade over clifftops and canyons are filled with bluebells.
ILLINOIS/IOWA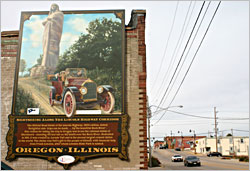 A 50-mile loop along the Great River Road on both sides of the river will provide spectacular views of barges, stone outcroppings, islands and soaring eagles.
Stop to see the windmill in the Dutch town of Fulton, Ill., then head north to Savanna and Mississippi Palisades State Park, winding up the steep park road to the river overlook.
Then backtrack to Savanna (or head another 30 miles north to Galena) and cross the sloughs of the Upper Mississippi River National Wildlife & Fish Refuge to Sabula, Iowa.
Then head south along the river's Pool 13 to Clinton, and cross back to Fulton, which celebrates Dutch Days the first weekend of May.
EASTERN IOWA
Iowa has eight state scenic byways and two national scenic byways, the Great River Road and Loess Hills.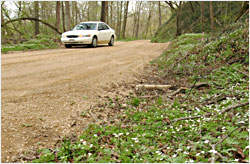 Besides the northern part of the Great River Road, four byways are in northeast Iowa: River Bluffs, Driftless Area, Delaware Crossing and Grant Wood.
Drive along the Mississippi River from the Minnesota border to Dubuque, and you'll never again say that Iowa is flat. This is part of the Driftless Area, which the last four glaciers missed while scraping down the rest of the Midwest.
Most of the Great River Road hugs the Mississippi, but the parts that veer inland are just as gorgeous, swooping up and down like a roller coaster.
Stop in Lansing to take in the view from Mount Hosmer City Park and, on the bluffs above Marquette, walk the trails in Effigy Mounds National Monument.
Then you'll come to McGregor, a quirky little town at river's edge, and another great view 500 feet above it, from Pikes Peak State Park. Take County Road X56 to Guttenberg, then C9Y to Balltown, which is not on the river but has an astonishing view.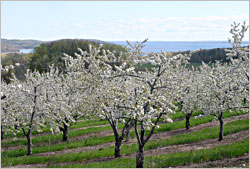 Continue on to Dubuque, where you can admire the view from the top of the Fenelon Place funicular.
WESTERN MICHIGAN
Across the Mackinac Bridge and south of Mackinaw City, U.S. 31 barrels straight south, but M-119 follows Lake Michigan.
It's 27½ miles between Harbor Springs and Cross Village on a road that's twisting and narrow, barely wider than a bicycle trail (and, in fact, watch for bicyclists).
In May, the woods along the drive are carpeted with trilliums, and you'll get decent views of the lake through still-budding trees.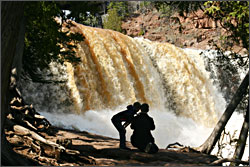 Tulips in Holland
The Tulip Time festival in the Dutch city of Holland stretches over the first two weekends in May, which makes it easier to catch on a drive along Lake Michigan.
The Holland area has planted nearly 4.5 million tulips. See them on the 30-mile drive from South Haven through Saugatuck; you'll get to sightsee and take a leisurely stroll in three beach towns that are packed in summer.
On a narrow finger of land pointing north from Traverse City, thousands of cherry trees bloom.
It's 19 miles to the tip of the peninsula and the 1870 Mission Point Lighthouse. There's history as well as scenery here, along quiet roads and dip and rise past horse farms, orchards and vineyards.
On the third Saturday in May, the Old Mission Peninsula Wine Trail celebrates Blossom Day, with tastings at all eight wineries.
Last updated on January 19, 2022