Bicycling in Wisconsin
The state that pioneered rail trails isn't resting on its laurels.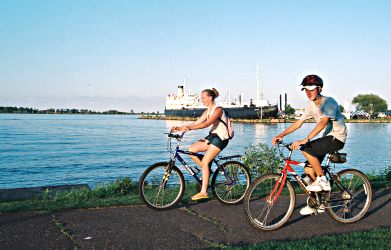 When people think of bicycling in Wisconsin, the famous Elroy-Sparta State Trail often is first to pop into their minds. But the state has added many, many trails since the Elroy-Sparta debuted in 1967, and it's time to try them.
All of the trails listed below use finely crushed limestone, except as noted. They're suitable for touring bikes, though a wider tire is best. Chip-sealed trails are like asphalt but softer, and can be nearly as smooth because they don't become pitted.
State trail passes are $5 daily, $25 annual; passes also are good in winter on ski trails. Rates on county and city trails vary; many are free, including the Interurban and Oak Leaf.
For more information on state trails, check the Wisconsin DNR parks and trails map.
For user reviews of trails, check the Rails-to-Trails Conservancy's TrailLink site.
Before you go, always check websites for closures due to flooding or construction.
Ahnapee. 48 miles from Kewaunee on Lake Michigan to Algoma and Sturgeon Bay, with a spur to Luxemburg. It's pronounced "ANN-a-pee."
For more about Sturgeon Bay, see The door to Door County.
Badger: 40 miles from the Capital City State Trail in Madison south to Monticello, where it crosses the Sugar River State Trail, and on to Monroe and the Illinois state line.
There, it connects with the Jane Addams Trail and continues another 17 miles to Freeport, Ill. The trail features a 1,200-foot railroad tunnel south of Belleville (bring a strong flashlight).
For more, see A slice of cheese country.
BATS-Crystal Lake: 11 paved miles from Boulder Junction, near Minocqua, through Northern Highland-American Legion State Forest and along lakes. It's part of the 52-mile Heart of Vilas County bike-trail system.
For more, see Browsing in Boulder Junction.
Bearskin: 21.5 miles south from the resort town of Minocqua to County Road K and U.S. 51, through forest and past lakes.
For more, see Summer in Minocqua.
Six miles separate the Bearskin from the 6.4-mile Hiawatha trail between Heafford Junction and Tomahawk.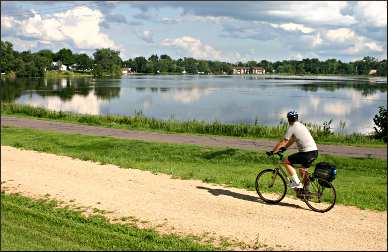 Bugline: 16 paved miles between the village of Merton on the Ice Age National Scenic Trail and Menomonee Falls, near Milwaukee.
Capital City: 17 paved miles through Madison and its suburbs, connecting to the west-bound Military Ridge via a one-mile link from Fitchburg. Bicyclists also can use the 5½-mile Southwest Commuter Path to connect to the Badger Trail, taking it all the way to the Illinois border.
For more, see Summer in Madison.
Chippewa River: 30 miles west of Eau Claire along the Chippewa River to Durand; the first 10½ miles are paved , the 13 miles to its junction with the Red Cedar are chip-sealed and the 6½ miles to Durand are asphalt.
Devil's River: 15 miles from Denmark, half an hour south of Green Bay, to Rockwood, just north of Manitowoc.
Eisenbahn: 25 miles from the town of West Bend north to Campbellsport and Eden, near Fond du Lac. Five miles through West Bend are paved.
Elroy-Sparta: 32.5 rolling miles between Elroy and Sparta, through three long, damp tunnels. The middle section, around Wilton, is heavily Amish.
The tunnels are closed from November through April.
With the Great River, La Crosse River and 400 trails, it's part of a 103½-mile trail system.
For more, see Cycling in coulee country.
400: 22 miles between Elroy and Reedsburg along the Baraboo River; a 4-mile spur goes into Hillsboro.
Fox River: 25 miles south from downtown Green Bay (there's parking at Mason Street) on the east side of the river, past the village of Greenleaf; the first 11 miles are paved.
In Forest Junction, it connects to the four-mile Friendship State Trail.
For more, see Packer country.
Gandy Dancer: 47 miles between St. Croix Falls and Danbury and through seven little towns, including Luck, Frederic, Siren and Webster.
For more, see Trail mix in St. Croix Falls.
Glacial Drumlin: 52 miles through farmland from Cottage Grove, just east of Madison, to Waukesha, just west of Milwaukee. Aztalan State Park near Lake Mills is a very interesting stop. The 13 miles west of Waukesha are paved.
For more, see Riding the Glacial Drumlin.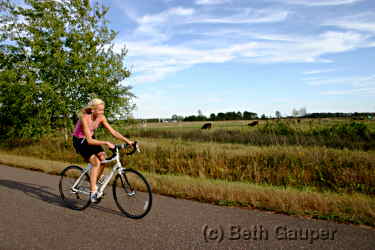 Glacial River: 56 miles from the northeast edge of Janesville to Koshkonong and Fort Atkinson, in southeast Wisconsin, to the Rock County border, through a picturesque covered bridge, and on through Jefferson and past Watertown. Much of the trail follows Wisconsin 26.
Great River: 24 scenic miles between a wildlife refuge north of Trempealeau to Onalaska through Mississippi wetlands, connecting to the La Crosse State Trail.
For more, see Trails of Trempealeau.
Green Circle: 31 miles connecting parks around Stevens Point. It connects to the Tomorrow River Trail in Plover.
The surface includes asphalt, crushed stone, wood chips, boardwalks and roadways.
Hank Aaron: 12 miles, 10 of them paved, along the Menomonee River in Milwaukee from the Henry Maier Festival Park on Lake Michigan to Miller Park and State Fair Park, meeting the Oak Leaf Trail both at the lakefront and at the Waukesha County line.
From the western trailhead, a short connection on the Oak Leaf Trail takes bicyclists south to Greenfield Park and the seven-mile New Berlin Trail, from which bicyclists can connect with the Glacial Drumlin State Trail and ride to the Madison suburbs.
The Friends of the Hank Aaron State Trail organize events on the trail.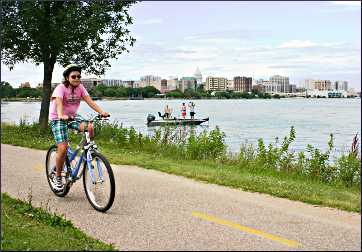 Interurban: 30 paved miles in Ozaukee County, just north of Milwaukee. It connects to Milwaukee's Oak Leaf Trail at the county line, near Brown Deer Park.
It's populated but pretty from Mequon through the popular tourist towns of Cedarburg and Port Washington and quiet but a little dull to Belgium. From the county line, paved trails continue to Oostburg, just 13 miles short of Sheboygan.
For more, see Bicycling along Lake Michigan.
Kenosha-Racine trails: The 18.6-mile Kenosha County Bike Trail is in two parts, with city neighborhoods in the middle, linked by the 10-mile Pike Bike Trail along Lake Michigan.
On the north, it connects to Racine County via the three-mile North Shore Trail, from which the 10-mile Lake Michigan Pathway follows the lakefront.
On the south, it heads to the Illinois border, where it meets the 26.5-mile Robert McClory Bike Path to Highland Park.
La Crosse: 21½ miles between Onalaska and Sparta, paralleling Interstate 90, connecting to the Great River and Elroy-Sparta trails.
Lake Country: 15 paved miles from Oconomowoc and through Delafield to Pewaukee, just west of Milwaukee. It's mostly flat but has some hills, and three short parts are along roads.
Mariners/Rawley Point: The Mariners Trail is 5½ paved miles from Manitowoc along Lake Michigan to Two Rivers.
In Two Rivers, city streets (Washington Street across the west branch of the Twin River, 17th Street across the east branch) connect the Mariners Trail to the crushed-limestone Rawley Point trail, 6 miles to Point Beach State Forest and Rawley Point Lighthouse.
For more, see Two trails from Two Rivers.
Military Ridge: 40 miles between Fitchburg, west of Madison, and Dodgeville in southwest Wisconsin, passing Little Norway and Cave of the Mounds near Mount Horeb.
In Dodgeville, the six-mile Shake Rag Trail, partly along roads, connects the trail to Mineral Point.
Mountain-Bay: 83 miles between Schofield, near Wausau, and Green Bay, through three counties.
Oak Leaf: This network of bike routes in Milwaukee includes 135 miles of off-road trail on seven branch lines.
Those lines also link to the Hank Aaron State Trail, Milwaukee's Kinnickinnic River and Beerline trails, Waukesha County's Brookfield Greenway and New Berlin/West Allis trails on the west and the Brown Deer Trail on the north edge of town, which connects to the 30-mile Ozaukee Interurban Trail.
In the city, the longest sections go north from downtown along the lake and the Milwaukee River and south along the lake from South Shore Park. Here's an overview.
For more, see Bicycling along Lake Michigan.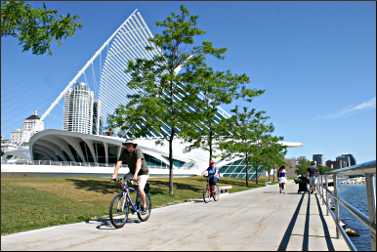 Oconto River: 8 miles north of Green Bay. It follows the Oconto River between Stiles and Oconto on Lake Michigan, passing Copper Culture State Park.
Old Abe: 20 paved miles along the Chippewa River between Chippewa Falls and Cornell, with a one-mile city trail leading into Brunet Island State Park.
The southern trailhead is north of Chippewa Falls at the junction of county roads O and S, 2 miles west of Lake Wissota State Park.
For more, see A trail for Old Abe.
Old Plank Road: 17 paved miles from Sheboygan to Greenbush, paralleling Wisconsin 23. Mopeds also are allowed. The four-mile Urban Rec Trail in Sheboygan connects the Old Plank Road to the city's lakefront.
For more about the area, see Sights of Sheboygan.
Omaha: 13 chip-sealed miles from Camp Douglas, just off Interstate 94, to Elroy, through a short tunnel. It's maintained by Juneau County. Elroy Commons is the trail hub.
Osaugie: 5 paved miles along the harbor in Superior. At the edge of town, bicyclists can continue 4½ miles along Moccasin Mike Road to the lighthouse at the end of Wisconsin Point, lined with beaches.
For more, see Duluth's twin in Wisconsin.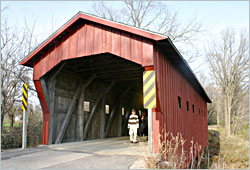 Pine River: 14.3 miles along the Pine River and across 15 bridges in scenic coulee country, between Krouskop Park in Richland Center and Lone Rock.
Lone Rock is 8 miles west of Spring Green, home of House on the Rock and Frank Lloyd Wright's Taliesin.
For more, see Drawn to Spring Green.
Red Cedar: 14½ miles between Menomonie and the Chippewa River, along the Red Cedar River past Downsville, linking with the Chippewa River Trail. It's one of the best trails to see wildlife.
If you'd like to paddle one way and bicycle back, see Red Cedar ride 'n' glide.
Stower Seven Lakes: 14 miles between Dresser and Amery in northwest Wisconsin, passing seven lakes, one with a sand swimming beach.
For more, see Savoring the Seven Lakes.
Sugar River: 23 miles along the Sugar River between picturesque New Glarus and Brodhead, linking with the Badger State Trail in Monticello. There's bike rental at the trail center in New Glarus, 608-527-2334.
For more, see Swiss at heart.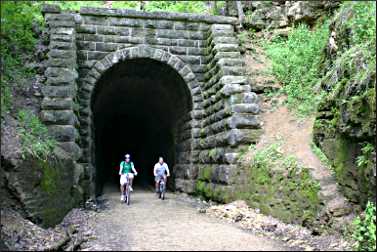 Three Eagle Trail: 12.7 miles from Don Burnside Park in Three Lakes to Sundstein Road, including a 1.5 stretch on roads; bicyclists can continue north on the lightly traveled, paved road to Eagle River.
Terrain is wooded, and the trail passes lakes and bogs on two boardwalks and a steel bridge.
Tomorrow River: 29 miles from the east end of Plover to Manawa, with a one-mile break in Amherst.
In Stevens Point, the 31-mile Green Circle Trail, much of it along the Wisconsin and Plover rivers, comes within two blocks of the Tomorrow River State Trail.
White River: 19 miles between Elkhorn, near Lake Geneva, and Dover in Racine County, with a two-mile gap in Burlington.
For more about the area, see Gawking in Lake Geneva.
Wild Goose: 34 miles south of Fond du Lac, skirting the western edge of Horicon Marsh, nearly to the city of Juneau.
For more, see Life on Horicon Marsh.
Wiouwash: 22 miles from downtown Oshkosh to Hortonville and 19 miles from Tigerton to Birnamwood-Split Rock, connecting to the Mountain-Bay State Trail in Eland.
It's named for the four counties through which it runs: WInnebago, OUtagamie, WAupaca and SHawano.
Tours
Many of the trails host annual bike rides. For more, see Tours on two wheels.
Last updated on August 24, 2021