So many festivals, so little fall
The season is short, so go on a power trip and catch two or three festivals each weekend. Here's where to go.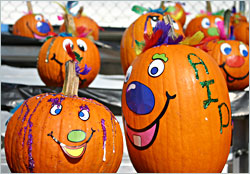 In this part of the world, fall is sweet but way too short.
All of the quaint little towns along rivers and in the bluffs have to pack their autumn festivals into the same six weekends, rolling out parades, pumpkin contests and oompah bands for all the leaf-peeping tourists.
The choices are paralyzing. Flea market or scarecrow contest? Pumpkin regatta or studio tour? Yodeling contest or dachshund races?
You can't do it all, but you can do a lot. Just go on a power trip — to two, even three festivals in one weekend.
If you want to cram in as many fall festivities as possible before cold weather arrives, here's our guide to the best place to be each weekend.
For more festivals, see our Events Calendar and our lists of Oktoberfests, grape stomps and art-studio tours in Minnesota, Wisconsin, Iowa, northern Illinois and western Michigan.
If you want to stay overnight, make reservations as soon as possible. And before setting out, call or check websites for festival highlights and plan around them.
Weekend after Labor Day: Southern Minnesota and the Twin Cities
The first time I went power tripping was the weekend after Labor Day, when Northfield holds its Defeat of Jesse James Days, the historic village of Mantorville holds Marigold Days and the Minnesota River college town of St. Pete holds the Rock Bend Folk Festival.
Don't miss the bank-raid re-enactments in Northfield, where the bad guys ride horses. In Mantorville, catch a melodrama. In St. Peter, kick back in the city park and listen to as much music as you want — it's free.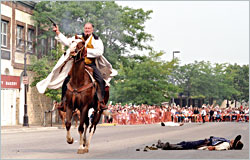 I hit them all on a day trip from the Twin Cities, and after three festivals and three towns, I felt as if I'd been gone three days. The best thing was that fall was just getting started.
And if we'd had more time, we could have stopped by the Minnesota Renaissance Festival, just up the Minnesota River from St. Peter.
Side trip: Just west of Minneapolis on Lake Minnetonka, James J. Hill Days in Wayzata is known for its dachshund races.
Also in the Twin Cities: the down-home Monarch Festival Saturday on Lake Nokomis in Minneapolis and the Saint Paul Classic Bike Tour on Sunday in St. Paul.
Third weekend of September: Wisconsin side of Lake Michigan
On the other side of Lake Michigan, start near the Illinois border in Racine, for the Party on the Pavement street festival on Saturday.
In Milwaukee, stop by the monthlong Oktoberfest at the Bavarian Bierhaus in Glendale for folk dancing, sing-alongs, yodeling and such typical German festival foods as spanferkel and rollbraten.
Then drive — or bike, using Ozaukee County's Interurban Trail — to the historic Yankee mill town of Cedarburg for Wine & Harvest Festival.
Don't miss the Great Pumpkin Regatta, where paddlers in hollowed-out pumpkins race across Cedar Creek, or the grape stomp.
The bicycle trail ends at the county line, north of Belgium. But if you keep going, you'll hit Two Rivers and its Ethnic Festival on Saturday.
Even farther north, at the gateway to the Door Peninsula, Sturgeon Bay holds its Harvest Fest and Street Art Auction on Saturday.
And if you want to keep going,  the Circle Tour of Lake Michigan is one of our favorite trips in fall as well as summer.
Side trip: Hop to the other side of Lake Michigan for three festivals: the Michigan Irish Music Festival in the port town of Muskegon, which includes Highland Games as well as music and dancing and the free South Haven Jazz Festival along the harbor in South Haven.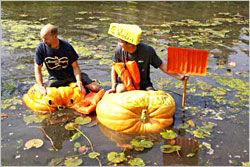 Fourth weekend of September: St. Croix and Mississippi river valleys
In fall, the small towns that line the St. Croix and Mississippi between Minnesota, Wisconsin and Iowa are favorite destinations. This weekend is a particularly good time to go.
Just east of the Twin Cities on the St. Croix, the village of Afton holds Afton Art in the Park. After that, head south on St. Croix Trail, where apple orchards will be offering hay rides and trips through corn mazes.
And across the river in Lakefront Park, Hudson holds Spirit of the St. Croix Art Festival, with a juried show, music and food.
The most scenic part of the Upper Mississippi may be northeast Iowa. Drive up to Effigy Mounds National Monument to hike along the bluffs.
Take time to drive up to Pikes Peak State Park, 500 feet above the river. The views are spectacular, and admission is free.
There are more views on the drive to Dubuque . Just across the river in Galena, Ill., Galena Cellars is holding its Fall Harvest Festival on Saturday, with a grape stomp.
Fifth weekend of September: Driftless Area of Iowa, Wisconsin and Illinois
In the scenic bluffs of northeast Iowa, visit 42 artists at 31 studios in and around Decorah on the Northeast Iowa Artists' Studio Tour.
Across the Mississippi River, La Crosse is celebrating its Oktoberfest, with a parade at 10 a.m. Saturday.
A little farther south on the riverfront in Galena, Oktoberfest is on Saturday.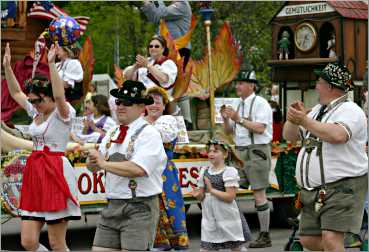 First full weekend of October: River towns of northwest Illinois
In the corner of Illinois, Galena is holding its Galena Country Fair in Grant Park, which includes a big bake sale, farmers market and arts show.
Nearby on the Rock River, head for Oregon, where you'll find Autumn on Parade.
Also in Oregon, the Olde English Faire returns, featuring castle tours, medieval merriment, jesters and Vikings.
On the Fox River in the western Chicago suburb of St. Charles, it's Scarecrow Weekend. And in the northern suburb of Highwood, which calls itself Pumpkin Town USA, visit the Great Highwood Pumpkin Festival and Skeleton Invasion.
To the south on the Illinois River, near Starved Rock State Park, Utica holds its Burgoo Festival.
Second weekend of October: River towns of Minnesota
Just east of the Twin Cities on the St. Croix, Stillwater holds Harvest Fest, with a pumpkin pie-eating contest, giant-pumpkin regatta on the St. Croix, and pumpkin drops.
Down the Mississippi in Red Wing, more than 100 artists' booths line the streets for Red Wing Fall Arts Festival, and there will also be bandshell concerts.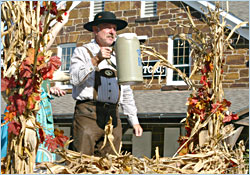 Third weekend of October: southern Wisconsin
In southwest Wisconsin, the popular Fall Art Tour winds through picturesque nooks and crannies in and around the towns of Baraboo, Dodgeville, Mineral Point and Spring Green.
While you're there, take an hour or two to hike in Devil's Lake State Park just south of Baraboo, which often is at peak fall color this weekend.
Farther south, you can catch one of the season's last Oktoberfest on Saturday in Elkhorn, not far from Lake Geneva. Near Racine, Union Grove gets out the catapults for its Pumpkin Chuckin Fest on Saturday.
At dusk, drive over to Eagle and Old World Wisconsin for the spooky Legends and Lore program. It's held on the first three Fridays and Saturdays of the month.
Fourth weekend of October: Twin Cities
This is the weekend before Halloween.
In the northern suburbs, Anoka calls itself the Halloween Festival of the World. Its two-week Halloween festival winds up Saturday with the big Grande Day Parade, starting at 1 p.m.
In south Minneapolis, BareBones Puppet Theatre holds its annual Extravaganza on the Midtown Greenway, featuring music, dance, stilt-walking, fire and song. It will be Friday through Sunday evenings as well as Halloween itself.
Last updated on February 2, 2022