Cheap spring getaways
Here are 20 places where a fun weekend won't break the budget.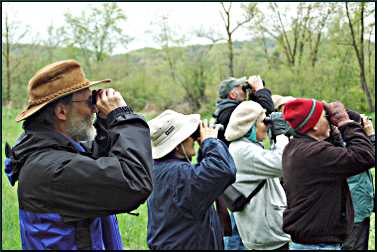 After a long winter, everyone deserves a spring getaway.
On a budget? No problem. Spring is the best time to find deals, and often the weather is stellar.
In Wisconsin's Blue Hills, help out at a nature preserve and stay free. In central Iowa, learn orienteering and archery at a women's skills retreat. In Chicago, have a sleepover in a museum or stay at one of three hostels during Craft Beer Week.
Think a little bit outside the box, and you'll save a ton of money.
Here's our 2023 list of great spring trips , most costing $100 or less per person.
For inexpensive trips year-round, see Cheap summer getaways, Cheap fall getaways and Cheap winter getaways.
MINNESOTA
Art and bicycling around Lanesboro
In southeast Minnesota, the Bluff Country Studio Art Tour April 28-30 is a  good excuse for a spring drive on the lovely rural roads between Lanesboro and the Iowa border, where there are many Amish farms.
Stay at the Cottage House Inn, $70 through April, and bicycle the paved, 42-mile Root River State Trail for free.
For more, see The belle of bluff country.
Spring break in canoe country
Near the northern Minnesota town of Ely, YMCA Camp du Nord rents out its cabins to groups in fall, winter and spring and offers adult retreats there and at YMCA camps on the Iron Range.
There's a Wild Wolf Weekend April 21-23 and an Adult Birding Weekend May 11-14 at YMCA Camp Northern Lights in Babbit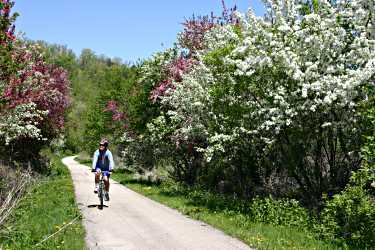 Maple syrup, birding and bicycling
Near Sandstone and the 75-mile Willard Munger State Trail, the Osprey Wilds Environmental Learning Center, formerly Audubon Center of the North Woods, holds an annual Maple Syrup Day in March 25, where families can learn how to tap trees and turn sap into syrup, then get a pancake meal, $15. Reservations are required.
Then they can spend the night in one of the environmental-learning center's lodges, $40 for a room that sleeps four adults or a family of eight.
Guests can make a weekend out of other programs, too. The lodges also can be rented by groups who want to bicycle the Munger Trail or go birding around the 535-acre campus.
For more about bicycling on the Munger Trail, see The Fire Ride.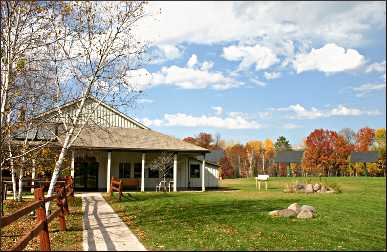 Hunting for morels and wildflowers
May is a fantastic time to explore the bluffs on southeast Minnesota. Spring ephemerals bloom all month, and morel mushrooms pop out around Mother's Day.
Whitewater State Park, along with the state wildlife area surrounding it, is considered one of the best morel-hunting grounds in Minnesota. It offers morel programs in May; stay at its heated camper cabin for six, $90.
It's also known for carpets of marsh marigolds, false rue anemone and hepatica.
Carley State Park, just west of Whitewater, is known for its masses of Virginia bluebells, and it celebrates Bluebell Festival in early May with games, wildflower walks and trout fishing for kids.
Eat inexpensively in nearby Plainview, which celebrates with a pancake supper and barbecue contest.
Beaver Creek Valley State Park, just west of Caledonia, is known for lots of trout lilies and has a heated camper cabin, $80. Reserve cabins 120 days in advance online or at 866-857-2757. Reservation fee is $7-$10.
For more, see Chasing spring wildflowers and Searching for morels.
Sampling the outdoors on the St. Croix
The Minnesota Rovers Outdoors Club puts on a Spring Extravaganza at a state park every spring to introduce prospective members to the club.
In 2023, it's June 2-4 at William O'Brien State Park on the St. Croix River east of the Twin Cities.
Cost of $25 includes two nights of camping, Saturday supper, Sunday breakfast and guided hiking, paddling, bicycling and wildflower-hunting.
For planning travel on a nickel, the Rovers and other outdoors clubs are unparalleled.
For more, see Join the club.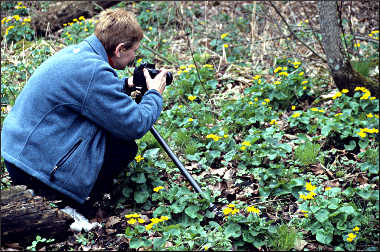 WISCONSIN
Riding high in Green Bay
In Green Bay, Bay Beach Amusement Park is a perennial best bet, with its 50 cent tickets — except for the Zippin Pippin roller coaster, which is a whole $1, and the Sea Dragon swinging Viking-ship ride, which is 75 cents.
The park is open weekends in May, and the adjoining wildlife area is popular with birders.
North of town, the NEW Zoo's Adventure Park has dueling zip lines, a ropes course and climbing walls.
Stay at the Bay Motel in Green Bay. Guests get a discount at the friendly motel restaurant.
For more, see Packer country.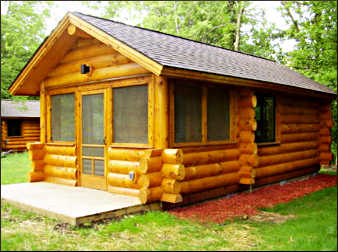 Watching prairie chickens court
On the sand plains between Wisconsin Rapids and Stevens Point, prairie chickens conduct a goofy courtship, complete with booming and stomping, that draws bird watchers from around the region.
Reserve a space in a blind in April and you'll get to see the whole thing. Cost is $15 per person, $10 for students.
For more, see Playing the field in Wisconsin.
Stay in Coloma at the Coloma Hotel, a restored 1876 inn where the most expensive room has a king bed, gas fireplace, cable, fridge and sofa and costs $59, including breakfast.
Bring a group and rent all nine rooms for $400.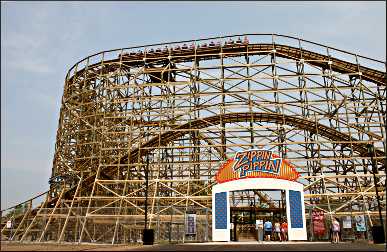 Work day in the Blue Hills
In northwest Wisconsin, the non-profit Hunt-Hill Audubon Sanctuary near Rice Lake holds a Spring Helping Hands work day April 29. Free lodgings in dorm rooms are available Friday and Saturday night, and breakfast and lunch are provided.
The sanctuary includes two lakes and trails through bogs, meadows and old-growth forest.
Music on the Mississippi
In the Wisconsin town of Trempealeau, the 1871 Trempealeau Hotel still includes eight of the original "working-man" rooms, $50-$75. They don't have private baths, but most have river views.
On most Thursdays and Saturdays, and some Fridays, the hotel hosts live music, which you can listen to while drinking craft beer, eating the hotel's renowned walnut burgers and watching river traffic.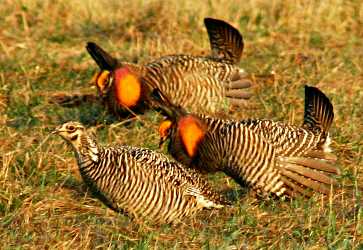 The hotel also is a good base for hiking up to Brady's Bluff in adjacent Perrot State Park, paddling the 4½-mile Long Lake Canoe Trail through the river sloughs and bicycling on the 24-mile Great River State Trail, which slices through town.
For more, see Hitting the trails in Trempealeau.
In May, come to see the lilacs and get a good deal on this Wisconsin peninsula, one of the region's most popular destinations in summer.
Door County has an especially good selection of mom-and-pops, including Julie's Park Cafe and Motel in Fish Creek, right on the road to Peninsula State Park. It opens for the season in late April, and you can get a king room for $70-$80 all the way through mid-June.
Bring your bike or rent one across the street, then ride the scenic trails in the park and look for wildflowers. For more, see Where to stay in Door County.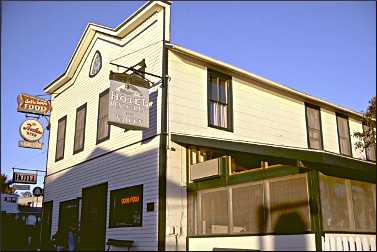 IOWA
Women in the woods
Iowa's Becoming an Outdoors Woman program offers a skills workshop at Wesley Woods Camp & Retreat Center near Indianola or Camp Io-Dis-E-Ca in Solon, between Cedar Rapids and Iowa City.
Women choose from more than 20 skills, including horseback-riding kayaking, fly fishing, bird-watching, archery, nature photography and orienteering. Cost is $280 for lodgings, meals, gear and instruction, and half scholarships are available.
Maifest in Amana
There's always something going on in the Amana Colonies, a group of once-communal villages southwest of Cedar Rapids, Iowa. Maifest festivities include the Taste of the Amanas food fair, Maypole dancing, German music and a parade May 6-7.
Stay in one of four modern family cabins, $80, at beautiful Palisades-Kepler State Park, just east of Cedar Rapids. They can be reserved up to a year in advance, online or at 877-427-2757. Admission to all Iowa state parks is free.
For more, see Truly Amana.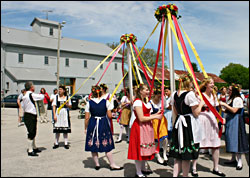 Cabins and wildflowers
Iowa state parks have a wonderful variety of cabins, and they're a bargain, but they rent by the week in summer.
In spring, there's only a two-night minimum. One year, on Mother's Day weekend, we rented an $80 cabin with bath and kitchen in Backbone State Park, near Strawberry Point.
We hit the peak of wildflower season, hiking the trails around Backbone Lake; the park was named for knobs of rock that erupt from the middle of the trail.
It doesn't look like most people's idea of Iowa; twisted cedars grew out of fissures, and we passed huge white pines and squeezed between house-sized piles of limestone.
Cabin guests can bring pets, and entrance to Iowa state parks is free. For more, see A cabin in Iowa.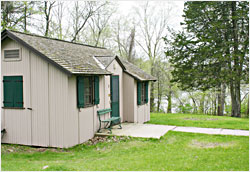 Cabins and bicycle trails
Iowa has dozens of bike trails and hundreds of cabins in county and state parks. Put them together, and you've got a cheap weekend.
The Raccoon River Valley Trail west of Des Moines is 89 miles, with a dog leg between Clive and Jefferson and a new loop that crosses the North Raccoon River in Dawson.
That's where Sportsman Park rents two cabins that sleep five and have a bathroom and kitchenette. They rent for $65 on weekdays and $75 weekends.
Near Adel, the three-bedroom, two-bath Glissman Lodge in Glissman Conservation Area sleeps eight and rents for $100 weeknights and $280 total for Friday and Saturday nights.
Check MyCountyParks for dozens of other cabins around the state.
CHICAGO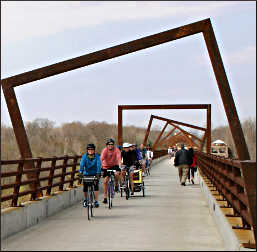 A night in the museum
With so many world-class museums, Chicago makes a great spring-break destination. Families can even sleep at the museums. At Shedd Aquarium, children 5 and older can be Asleep With the Fishes. Cost is $85, including dinner and breakfast.
The Field Museum offers Dozin' With the Dinos. Cost is $85, including a snack and breakfast.
At the Museum of Science and Industry,  there are Science Snoozeum overnights for children ages 6-12. Cost of $85 includes an Omnimax film, scavenger hunt, science toy-making, breakfast and parking.
For more, see Chicago with kids.
For more family sleepovers in four states, see Nights at the museum.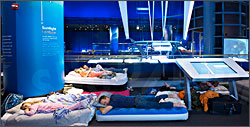 Festivals and hostels
Summer is very popular in Chicago, and it's hard to save money then.
But in spring, you can find a cheap flight and stay in a hostel for as little as $32, including breakfast.
Try the Hostelling International family hostel in the South Loop; the Freehand Hotel, in a former 1927 hotel in River North; or the Chicago Getaway Hostel near Lincoln Park.
Use the Divvy bike-sharing program to ride the Lakeshore Trail.
For more, see Where to stay in Chicago and Cheap Chicago.
More ideas
To find out about inexpensive places for groups to stay, see Cabins for a crowd.
Minnesota rents several modern guest houses that are very affordable. For more, see Lodgings in Minnesota state parks.
Michigan, Iowa, Illinois and Minnesota offer a wide variety of camper cabins in state parks. For more, see A roof in the woods.
Last updated on February 3, 2022