Cheap fall getaways
Here are 20 places to enjoy autumn colors without going into the red.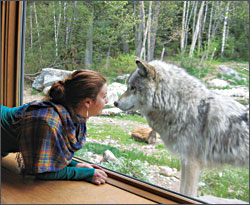 Fall is the busiest travel season of the year — we all know the nice days are numbered, and we're going to try our darndest to make them count.
But with pretty much everyone heading out to look for fall color, especially on weekends, there are few bargains.
That's why those of us on a budget look to our old friends: the state parks, the mom-and-pop motels, the environmental centers, the outdoors clubs.
Here's our list of 20 great autumn trips. Most of them cost $100 or less per person.
Sign up for these deals, and you'll be enjoying fall in all the best places: along the Mississippi River, in bluff country, in the Upper Peninsula of Michigan.
If you're really planning ahead, or if you want more ideas, see Cheap winter getaways, Cheap spring getaways and Cheap summer getaways.
Wolves and pizza in Ely
In northern Minnesota, the International Wolf Center offers Wolf Family Rendezvous Oct. 21-22 in 2023. It'll be a good chance to get up close with the new pups, Blackstone and Caz.
The program includes private instruction and wolf viewing, games, a hike and a sleepover in the auditorium.
Cost is $90, $54 for youths 6-12. It includes a continental breakfast.
For more, see Dreaming of Ely.
Concert and camping
Just east of St. Paul, set up a campsite at Lake Elmo Park Reserve, then lean back and enjoy the Washington County Bluegrass Festival on Sept. 9 in 2023. The music is free, campsites are $15-$25 and a daily permit is $5.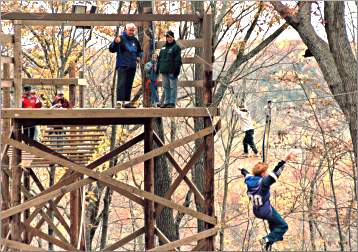 Outdoor skills in Minnesota bluff country
Minnesota's Becoming an Outdoorswoman program offers fall outdoor skills weekends at Eagle Bluff Environmental Learning Center near Lanesboro. It includes fly fishing, a tour of Mystery Cave, orienteering, a ropes course, canoeing and a bird hike.
In 2023, it's Sept. 15-17. Cost of $211 includes lodgings and meals.
Michigan also offers Becoming an Outdoorswoman programs.
Music on the Mississippi
In Winona, the Boats and Bluegrass festival Sept. 21-24 is a great deal for families. For $120 to $180, depending on how early you buy your ticket, you get to hear all the music, camp in the riverside campground and go canoeing — and kids under 16 are free with an adult ticket.
Extra activities may include old-time circus games, fire dancers, disc golf, family pontoon rides, nature walks and airplane rides.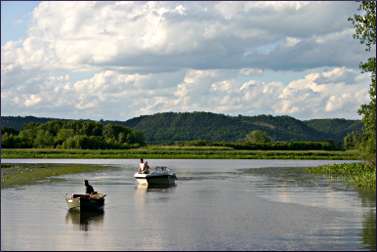 If you can't make it, the municipal Prairie Island Campground is a good place to camp any time, with a beach, playground, deer park, canoe rental, boat launch, store and showers.
If you have your own boat, bring it; the Mississippi backwaters are fun to explore.
For more, see Afloat in Winona.
A sampler of outdoors sports
Every fall, the Minnesota Rovers Outdoors Club puts on an Outdoors Extravaganza to introduce prospective members to the club. Members lead paddling, rock-climbing, bicycling and hiking expeditions.
In 2023, it's Sept. 29-Oct. 1 in Baker Park Reserve in the Minneapolis suburb of Maple Plain.
Cost of $10 includes two nights of camping plus Saturday supper and Sunday breakfast.
For planning travel on a nickel, the Rovers and other outdoors clubs are unparalleled.
To find out about these groups, which offer many great trips for $100 or less, see Join the club.
Camping in the middle of Chicago
In Northerly Island Park, on Lake Michigan next to the Museum Campus, the Chicago Park District often offers a Family Camping weekend.
It's $50 for up to six in a tent, which is provided, and includes hotdogs, marshmallows, tents and programming, including fishing, fire-building and guided hikes.
If you'd rather have a roof over your head, Chicago has newfangled hostel hotels in addition to the longtime favorite Hostelling International hostel in the South Loop.
For more, see Where to stay in Chicago.
Deep woods around Ely
The boreal woods around the northern Minnesota town of Ely, on the edge of the Boundary Waters, are beautiful any time of year, but especially in fall.
Just north of town, off the Echo Trail, YMCA Camp du Nord offers an Autumn Adventures Family Camp Oct. 19-22, with guided hikes and paddles, nature programs, campfires, family saunas and arts and crafts, and a du Thanks Family Camp Nov. 22-26, with a Thanksgiving dinner, s'mores, crafts and a turkey trot.
There are 21 heated cabins, some with gas fireplaces, in three villages. Some are rustic, but most are quite luxurious.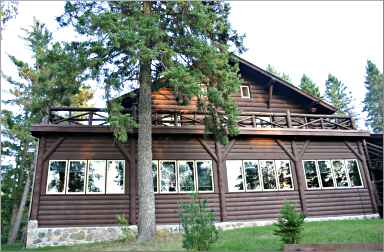 Rates depend on size of cabin; 16 people sharing Thor's Cabin pay $78 apiece, and seven people sharing Jack's Cabin pay $99 apiece. Reserve early to get your choice of cabins, 612-465-0568.
A roof in a Minnesota state park
In fall, many leaf-peepers flock to the state parks, because that's where the color is.
In Minnesota, that's where the action is, too. Pick out one of the many naturalist programs, then stay right in the park for the weekend, in a camper cabin.
In Itasca State Park, the Autumn Harvest Festival includes guided lantern-lit hikes with legendary characters, children's activities, campfires and music.
Stay in the Douglas Lodge, where rooms for two with shared baths are $85 and rooms for four are $145.
For more, see The people's park.
In Whitewater State Park in bluff country, naturalists offer many fall programs, including bird-banding, history tours, photography, fly fishing, fossil field trips and a bluegrass jam. Stay in one of the park's four camper cabins, $90, or group-camp cabins.
For more about state-park camper cabins in other states, see A roof in the woods.
Yurts and cabins in the Porkies
Fall is the best time to visit gorgeous Porcupine Mountains Wilderness State Park, along Lake Superior in Michigan's Upper Peninsula — it has 100 miles of hiking trails, spectacular fall color in the largest stand of virgin hardwood forest east of the Mississippi, and no bugs.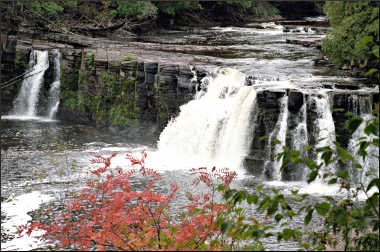 Stay in one of the cabins and yurts, which include 19 wood-heated rustic cabins and four yurts, $78. In the Union Bay campground, a tiny house is $100.
In the cabins, you'll have plenty of privacy, but they're not for sissies: Seven are within a mile of a trailhead, and one is handicapped-accessible, but others require a hike of up to four miles.
Cabins on Mirror Lake, Lily Pond and Lake of the Clouds include boats.
Two of the yurts are right on Lake Superior off the campground, and two can be reached only by trail. They don't have electricity or running water.
For more, see Afoot in the Porkies.
History along the Minnesota River
Stay in Fort Ridgely State Park, and you can visit historic sites and stay in a chalet for much less than $100 per person.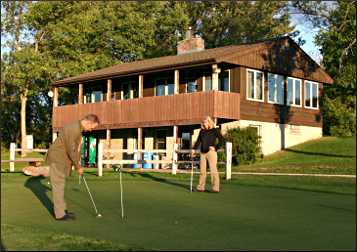 The park rents out its former golf chalet for $85, and it sleeps up to 15, though eight would fit better. It has a kitchen, but no beds. Fort Ridgely Historic Site, important during the U.S.-Dakota Conflict of 1862, is within the park.
New Ulm is nearby. For more, see River with a past.
For more cabins and guesthouses, see Lodgings in Minnesota state parks.
Fall color in waterfall country
In northeast Wisconsin, an hour east of Eagle River and 20 minutes west of Florence, Chequamegon-Nicolet National Forest rents eight Lost Lake Cabins at Lost Lake Campground.
The cabins sleep six in three bunk beds, and bathrooms and showers are in two central buildings. They rent for $40 weekdays, $45 weekends, and they're open from mid-May to mid-October. Reserve at Recreation.Gov.
For more, see Waterfalls of northeast Wisconsin.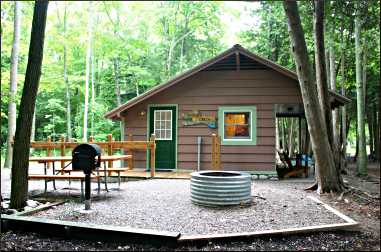 A cabin in a Lake Michigan park
In fall, it's not as hard to get one of Michigan's many and varied cabins in state parks, 15 of them on Lake Michigan. Most mini-cabins that sleep four are $49-$52, most rustic cabins that sleep two to five are $65-$68, and most camper cabins that sleep six are $86-$90.
For more, see Michigan's great lake cabins.
A deal on an indoor water park
In late October, rates drop precipitously at indoor water parks and stay low until the holidays.
In the Wisconsin Dells, check resort hot deals and specials. The best are for midweek stays.
Some smaller resorts and motels include passes or discounts with a stay, such as Ambers Inn & Suites, the Dell Creek Motel and the wooded Birchcliff Resort near the river.
For more, see Fall in the Dells and Making waves.
For more about water parks in other places, see Water, water, everywhere.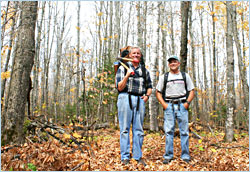 Trail clearing in Minnesota
Here's a weekend trip that pays you. The Twin Cities-based North Star Ski Touring Club is the largest cross-country club in North America and helped blaze many of the state's best ski trails. It holds several trips every fall to clear them for winter, and it reimburses participants for gas money.
Typically, workers put in six to eight hours on Saturdays and four hours on Sunday.
Lodging and meals are provided by the host resorts or organizations, typically Camp du Nord near Ely, the Gunflint Lodge, Banadad Trail and resorts on the North Shore.
It's a good way to meet people, too. Sign up early for the best slots.
For more about groups, see Join the club.
Bicycling the Root River State Trail
In the southeast corner of Minnesota, the Root River State Trail and town of Lanesboro are a favorite fall destination.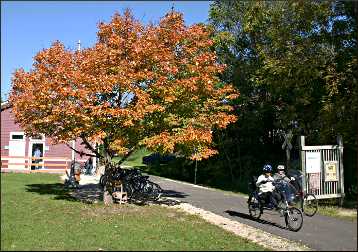 Pitch a tent for $20 right downtown, in Sylvan Park or in the Riverview Campground, or park a camper for $30. Hot showers are $1 at the adjoining Community Center, and you can pick up pastries from local Amish families at the Saturday farmers market.
On Sept.15-16 and Sept. 22-23, attend Autumn Trail festivities in the towns along the Root River State Trail.
For more about riding the Root River, see Bicycling in bluff country.
For more about the area in fall, see Bluff-country byways.
Outdoors in Ironwood
Michigan's Upper Peninsula is mostly national forest, which means it's a great place to see fall color — perhaps the best in the region.
Use Ironwood as a base. From there, explore the waterfalls along the Black River north of Bessemer. Nearby, take in the incredible view from the top of Copper Peak, the only ski-flying hill in the Western Hemisphere.
Ride a chairlift to the crest of the hill, then take an 18-story elevator to the top of the jump, $25, $10 for children 5 to 14.
To the south, seek out the waterfalls in Wisconsin's Marinette County.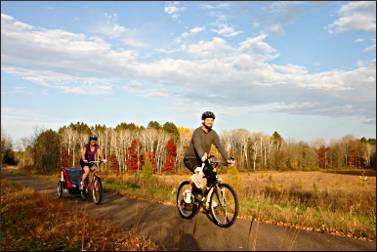 Reliving historic fires on a Minnesota state trail
In eastern Minnesota, people zooming up Interstate 35 to the North Shore usually bypass Banning State Park.
But the park, set along the Kettle River near Sandstone, is one of Minnesota's most beautiful. And the 75-mile Willard Munger State Trail, which connects Hinckley and Duluth, is one of the state's best.
The trail, once a train line, figured prominently in two of Minnesota's worst tragedies, the 1894 Hinckley Fire, which incinerated Hinckley and Sandstone, and the Fires of 1918, which destroyed Kettle River and Moose Lake along the trail, as well as Cloquet.
Museums in Hinckley and Moose Lake tell the gripping stories. For more, see The Fire Ride.
A good base to explore the trail is the rustic camper cabin at Banning State Park, which sleeps five, $80.
Horseback-riding in northwest Illinois
Five miles west of Oregon on the Rock River, White Pine Ranch offers an Adults Only Weekend Nov. 3-5 in 2023.
Cost of $250 includes horseback riding, a horsemanship class, a hayride, games, crafts, lodgings in dorms and five meals.
More ideas
In big cities where hotels cater to conventions and business travelers, rates fall precipitously on holidays, including Labor Day weekend. For more, see Cheap Chicago.
Fall is the best time to ride a bicycle trail; temperatures have cooled down, and the wildflowers are blooming. See Bicycling stories.
It's also much easier to find a camping spot in a popular place. See Camping stories.
Minnesota rents several modern guest houses that are very affordable for groups. For more, see Lodgings in Minnesota state parks.
Group travel can be extremely cheap, with everyone sharing expenses. To find out about other inexpensive places for groups to stay, see Cabins for a crowd.
Last updated on December 8, 2021