A thousand times, go
With "1,000 Places," daydream believers in the Upper Midwest get another life list to work on.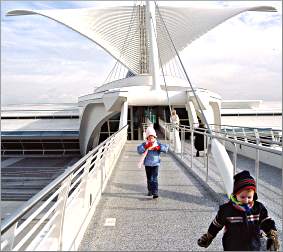 Patricia Schultz's best-selling book "1,000 Places to See Before You Die" was grand entertainment for armchair travelers. It's unlikely that many people read the book, then ran off to raft the Mangoky River in Madagascar or bask on the beaches of Bora Bora. But she let us dream about it.
The New York writer's next book, however, was about places to which people might actually go — and about places they know. It's called "1,000 Places to See in the U.S. and Canada Before You Die."
She couldn't visit every place she chose, so she relied on the help of friends and relatives, other travel writers, the Internet and tourism bureaus.
"Over time, you develop radar," Schultz said. "I  like to think that, to some degree, I have a sensitivity to the inherent specialness of places."
She's been to Wisconsin twice in her life, she said, and to Minnesota four times.
"I'm a late convert to Minnesota and the Midwest," she said. "I was astounded by the beauty. I like the Midwest, and I'd like to know it better."
Her U.S. and Canada book includes 12 entries in Minnesota and 18 in Wisconsin.
So how did she do?
To people who know the area well, the entries will sound vaguely tone-deaf. Is Minneapolis really the heart of hockey country?
Few would consider Afton a farming town, and Laura Ingalls Wilder's birthplace is not Alma, Wis. The Brainerd Lakes do not generate nearly half of Minnesota's resort revenue.
And many will roll their eyes at her lodgings choices, the same old, same old hotels also recommended by every other national travel writer not because they're best, but because they've been around the longest
the Lowell Inn in Stillwater, the St. James in Red Wing, the Old Rittenhouse in Bayfield.
But with a few notable exceptions, Schultz's recommendations are pretty good. Besides, they're meant to be a guideline, not a mandate.
Here they are, in the order she lists them.
For more great places to visit, see 100 best places, A year of best places and other Favorite Places stories.
MINNESOTA
Mall of America : Don't tourists have anywhere better to go? Apparently not. This is Minnesota's No. 1 tourist attraction, according to Explore Minnesota Tourism, so it gets a spot on the list.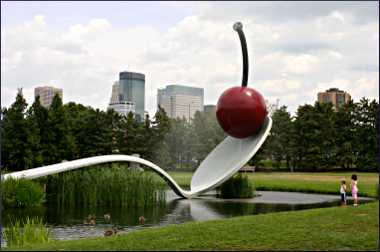 Brainerd Lakes : This area was prominent in the 1920s and '30s, when movie stars and mobsters came to gamble and governors built summer homes. Today? It's got a lot of fancy condo resorts, championship golf courses and upscale shops. The thing is, so do Hilton Head, Naples, Scottsdale and other such enclaves.
Yet Schultz calls Brainerd "a classic Minnesota vacation area" and trots out the usual suspects - Grand View Lodge, Madden's - resorts that she says have "kept up to date with amenities like designer golf and full-service spas."
For more, see The buzz on Brainerd.
So is it classic or is it "up to date"? For classic, look farther north, to the Itasca-Park Rapids-Bemidji area (see below).
The North Shore : Now she's talking. We love our craggy shoreline on Lake Superior. I've never thought of it as "home to sweet waterfront villages and 10 of Minnesota's finest state parks" — for one thing, there are only eight state parks along the North Shore, and "Caribou Falls" isn't one of them.
But is it a good place to see before you die? Of course.
For more, see Escape to Minnesota's North Shore.
Boundary Waters Canoe Area Wilderness : This 1.1 million-acre wilderness along Minnesota's border with Canada was the only Minnesota entry in Schultz's original "1,000 Places to See Before You Die," and it's hard to think of a better one.
For more, see Minnesota's Boundary Waters.
Gunflint Trail & Superior National Forest : Here's a third entry from Minnesota's Arrowhead region, with a focus on the two best-known and most expensive Gunflint Trail resorts and the Superior Hiking Trail.
For more, see Adventure on the Gunflint Trail.
Voyageurs National Park : Whew, our only national park got a mention. Good thing, because more people should explore its vast watery expanses.
For more, see Land of big water.
Grand Rounds National Scenic Byway in Minneapolis : This was an inspired choice. We take it for granted, but the loop that connects the Mississippi to Minnehaha Creek, the Chain of Lakes and Wirth Park is a national treasure.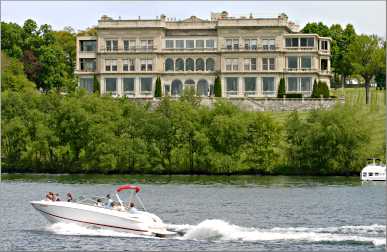 For more, see Biking in Minneapolis.
Guthrie Theater and Walker Art Center : The new Guthrie and the Walker addition, both designed by cutting-edge architects from Europe, have made Minneapolis more hip, which New Yorkers seem to appreciate.
For more about the Guthrie area, see On the river in Minneapolis.
St. Croix River Valley : What would Twin Cities weekenders do without Stillwater, Taylors Falls and . . .  Scandia?  Wild River State Park gets a shout-out, too.
For more, see Sightseeing on the St. Croix.
Red Wing & River Bluffs : You can't beat a drive along the Mississippi River. Wabasha isn't mentioned, but Winona is, along with its new Minnesota Marine Art Museum and now-gone Julius C. Wilkie Steamboat Museum.
For more, see Mississippi panoramas and Mississippi River Valley stories.
Garrison Keillor's "Prairie Home Companion" : Schultz says she feels Garrison Keillor's nationally broadcast radio show says a lot about Minnesota. No quibbles there.
Winter Carnival: People just love to tell the story about how St. Paul responded to the New Yorker reporter who called it "another Siberia, unfit for human habitation."  It's a good excuse to mention Summit Avenue, too.
For more, see Whiskey and cherubs and Street of dreams.
Biggest omission
The Mississippi Headwaters and Lake Itasca : People from Mongolia to Moldova have heard of the Mississippi, if not Minnesota. The big river starts here, in Minnesota's first and most cherished state park. It's in the middle of a lake-resort area that, unlike the Brainerd area, qualifies as "classic."
For more, see The people's park.
Should have included
Pipestone, Jeffers Petroglyphs and Blue Mounds State Park : Plains Indians come from many states to quarry the sacred soft rock at Pipestone National Monument. And dramatic formations of marble-like red quartzite erupt out of the prairie sod here, at the ancient Jeffers Petroglyphs and at Blue Mounds State Park.
For more, see Pipestone homage, Written in stone, Drama on the Prairie Coteau and Road trip: Southwest Minnesota.
WISCONSIN
Circus World Museum : In summer, circus performers come from all over the world to perform and live on the riverside site of the old Ringlingville, the wintering grounds of the Ringling Brothers. It's the Big Top much as it was in the golden days of the circus, and it's charming.
For more, see Baraboo's gilt complex.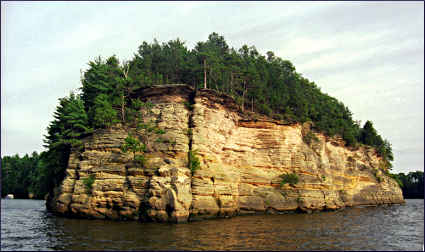 Lake Geneva : This is in Chicago's back yard, so there's a lot of money on display. The masses can look on from the 21-mile Shore Path.
For more, see Gawking in Lake Geneva.
Apostle Islands : This 21-island archipelago of the national lakeshore, with Madeline Island, was in the original "1,000 Places," and it is indeed spectacular.
For more, see Kayaking the Apostles and other Apostle Islands stories.
Canoe Bay : Big-city folks tend to be very impressed by this status-conscious resort on a small northwest Wisconsin lake, where a cottage designed by a Frank Lloyd Wright protege goes for $1,800 per night for two.
Here's a tip: Instead, stay at the Bernard Schwartz House in Two Rivers or the Seth Peterson Cottage in Mirror Lake State Park, both designed by Mr. Wright himself. The Schwartz House costs $295-$350 per night for up to six people — in winter, as little as $195 — and the Peterson Cottage $225-$275 for four.
For more, see Loving Mr. Wright.
With the savings, hire a personal chef to prepare the prix-fixe three-course dinners that cost $75 at Canoe Bay.
At the suggestion of a friend in Chicago, Schultz did stay there once with a boyfriend. She says she can't remember who paid (free-lance travel writers rarely pay for their lodgings), but that it was romantic.
Those who do have to pay should remember that a reputation like Canoe Bay's may reflect marketing prowess and a lot of giveaways to travel writers, not a high level of warmth and hospitality. If money is an issue, check TripAdvisor first to get a better idea of whether the resort is worth your money.
Door County : Chicagoans would really be at loose ends in the summer without this peninsula in Lake Michigan.
Actually, it's lovely, with one side devoted to shopping and dining and one shore for those of us who prefer hiking, biking, kayaking and swimming. And there's great theater and music for everyone.
For more, see Door County stories.
American Birkebeiner : The cross-country ski race between Hayward and Cable, modeled after the original in Norway, is a real feather in Wisconsin's cap. It's hard to find a place to stay if you want to watch it, but by all means, try.
American Club : Here's another resort that caters to the wealthy. You can indulge yourself and it costs a lot. Yawn.
For more, see Kohler's luxuries.
Dane County Farmers Market : Schultz says she wanted to include something that was quintessential Madison. Yep, this is it.
For more, see Shopping in Madison.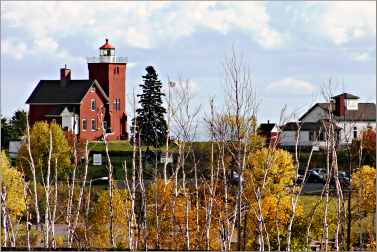 Milwaukee Art Museu m : This museum on Lake Michigan was pretty good even before a Spanish architect added the brise-soleil, a blindingly white "wing" that closes to screen the sun. Milwaukee is new to being hip, but it's getting used to it.
Milwaukee Festivals : Milwaukee has a great festival grounds on Lake Michigan, and it's busy all summer. German Fest, Festa Italiana, Polish Fest — and then there's Summerfest, the world's largest music festival. In fact, just bring a stein and camp there until September.
For more, see Party in Milwaukee.
Milwaukee's Beer Heritage : From Blatz, Pabst, Schiltz and many other breweries, Milwaukee ended up with Miller, Sprecher and Lakefront. Miller beers are nothing to speak of, but Sprecher, Lakefront and many brewpubs manage to hold up the Suds City reputation.
For more, see Mad about brew.
Cheese Country : Now, this is quintessential Wisconsin. Old World traditions are alive and thriving in New Glarus, founded by Swiss weavers; Mineral Point, settled by Cornish miners; and Monroe, a hearty Swiss town where people still eat Limburger cheese by the brick.
For more, see Cheese Country stories.
The Driftless Area : Another excellent choice from Schultz's Chicago friends. This pocket of southwest Wisconsin is named for the glaciers that slid around it, leaving it without the glacial rubble, or drift, that covers the rest of the region.
Today's visitors come to visit Amish farms, see round barns, ride on the Elroy-Sparta State Trail and canoe on the twisting Kickapoo River.
For more, see Coulees stories.
EAA AirVenture : This annual aviation festival in Oshkosh is a huge deal, drawing 700,000 to 750,000 people and filling up every hotel room within a 50- to 60-mile radius. Plan early, very early.
The Upper Mississippi Bluffs : Again, Schultz's sources steered her to the right places. The bluffs north of Prairie du Chien are lovely, rivaling Germany's Rhine Valley, and she includes the outdoorsy river town of Trempealeau.
For more, see Great River Road stories.
Taliesen : The tours of Frank Lloyd Wright's estate in Spring Green, Schultz writes, are "immensely popular." If she wants to see popular, she needs to drive up the hill to House on the Rock.  Wright once ridiculed builder Alex Jordan; Jordan had the last laugh.
For more, see Drawn to Spring Green.
Wisconsin's North Woods : You can't say much about this area — the northern third of the state — in five paragraphs, but at least it's in there.
For more, see Northern Lakes stories.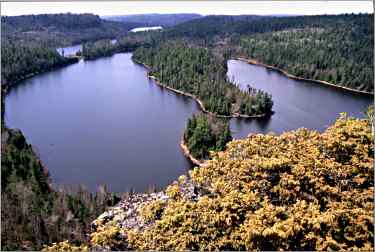 Wisconsin Dells : It's the Waterpark Capital of the World!® Need we say more?
For more, see Wisconsin Dells stories.
Biggest omission
Ice Age National Scenic Trail : This 1,000-mile trail, which traces the southernmost advance of the last glacier, is our Appalachian Trail.
For more, see Tracing the Ice Age Trail and Greatest hits of the Ice Age.
Should have included
Wisconsin's folk-art sculpture gardens : No other state has anything like Fred Smith's Wisconsin Concrete Park in Phillips, the Paul and Matilda Wegner Grotto near Sparta, the James Tellen Woodland Sculpture Garden near Sheboygan, Prairie Moon Sculpture Garden and Museum near Fountain City and Nick Engelbert's Grandview between Mineral Point and New Glarus, all restored by the Kohler Foundation.
Let's throw in the Dickeyville Grotto, too.
For details, see Road trip: Wisconsin's concrete art.
The International Crane Foundation : This refuge near Baraboo is the only place in the world where you can see at least one, usually two, of every kind of crane.
For more, see Pilgrimage to the Baraboo Hills.
Last updated on January 5, 2011