Best of summer
The season is short, so have as much fun as you can.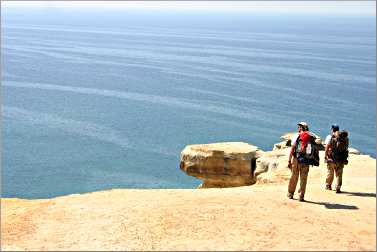 You probably think summer is a time to relax and enjoy the nice weather.
Wrong! It's the time to pick up the pace and make up for the months we sat around thinking about what we could be doing — hiking, biking, camping — if only we lived in Arizona or Florida.
By May, those places are sweatboxes and our time in the sun has arrived. We've got Lake Superior at our doorstep, rivers and lakes everywhere and the best bicycle trails in the nation. So go!
Here are my picks for the best things to do in summer.
Best hiking: Trails in deep forest are cool and shady, but if you don't like deerflies in your hair, pick somewhere open and breezy.
Trails along the Mississippi River fit the bill — try Barn Bluff in Red Wing, Minn., and, across the river near Trempealeau, Wis., Brady's Bluff in Perrot State Park.
Your reward will be a fantastic view.
Best trail bicycling: On a hot summer day, every bicycle trail should have a swimming beach. In Wisconsin, the paved, 17-mile Old Abe State Trail has one on each end, in Lake Wissota State Park and Brunet Island State Park.
In Minnesota, the 46-mile Lake Wobegon Trail passes the Avon city beach on Middlespunk Lake.
Best camping: How does mosquito-free camping sound? The state parks of southeast Minnesota don't guarantee it, but they're not above some bragging at Forestville, Whitewater and Beaver Creek Valley, which are in well-drained areas with few, if any, lakes.
For more, see Getting away from mosquitoes and Cave country. For other good spots, see 30 great campsites.
Best backpacking: Not much can beat the 42-mile stretch of the North Country National Scenic Trail that hugs the Lake Superior cliffs through Pictured Rocks National Lakeshore in Michigan's Upper Peninsula.
There's a spectacular view around every corner, and you can cool off with a run into the lake.
Best shopping: In Madison, Art on the Square on Capitol Square and Art Off the Square along Lake Monona draw 200,000 people to town. They're held the weekend after the Fourth of July. For more, see Shopping in Madison.
In Minnesota, six miles north of Rochester, treasure-hunters head to the smaller Oronoco Gold Rush, an antiques show and flea market on the banks of the Zumbro River. It's the third weekend in August.
Best fauna: Michigan's Isle Royale National Park in Lake Superior affords the best chance of seeing a moose, and spotting a "wild" fox is almost a sure thing.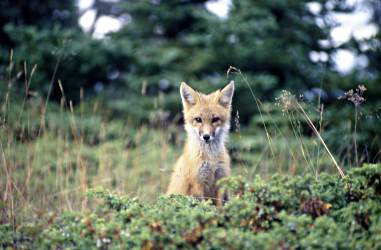 Closer to home, try any bicycle trail for deer and bunnies. For birds, try the Mississippi River bottoms between Trempealeau and Onalaska, Wis., and the Great River State Trail in particular.
Best flora: In the first half of May, go to bluff country in southeast Minnesota and southwest Wisconsin to see shady hillsides and river banks covered with spring ephemerals and goat prairies dotted with prairie flowers.
In Minnesota, try Mound Prairie SNA just west of Hokah. Then head across the Mississippi to Perrot State Park on the edge of Trempealeau, to gaze upon thousands of jeweled shooting stars and other spring wildflowers.
For more, see Chasing wildflowers.
By early June, the woodland wildflowers are out. On the first two weekends of June, admission into state parks is free: Wisconsin state parks on the first weekend, Michigan state parks the second weekend (it's also Free Fishing Weekend there) and Minnesota state parks on the second Saturday.
In Iowa and Illinois, admission to state parks always is free.
Best canoeing: Paddle past 330-foot limestone palisades and chimney spires and you'll think you're in Utah, not a river in northeast Iowa.
National Geographic Adventure magazine lists canoeing the Upper Iowa River near Decorah as one of its America's Best Adventure 100, along with rafting the Grand Canyon and climbing Yosemite's El Capitan.
For more, see 15 great rivers for paddling.
Best kayaking: The Bois Brule in northwest Wisconsin is called the River of Presidents, but hordes of ordinary folks paddle its rapids in summer. Scenery is non-stop: bald eagles, deer, wildflowers and turn-of-the-century cabins and boathouses, all in pristine condition.
Water levels can be low, so bring a kayak or rent one from Brule River Canoe Rental.
Best tubing: Around Lanesboro in southeast Minnesota, floaters can luxuriate in the cold waters of the South Branch of the Root River on hot days and stick to the warmer main river when air temperatures are cooler.
Outfitters rent tubes and run shuttles.
Best living history: Take a quick trip back to 1804 and have a chat with English fur trader John Sayer, French-Canadian voyageur guide Francois Boucher and Ojibwe woman Benakwe at the North West Co. Fur Post, a reconstructed post on the Snake River near Pine City, Minn.
Farther north, go to the August rendezvous at Grand Portage National Monument near the Canadian border and, in Thunder Bay, Fort William Historical Park.
For more, see Scenes from the fur trade.
Best train ride: They're all fun. But try one of the least-known: The volunteer-run Lake Superior & Mississippi Railroad, which travels along Duluth's St. Louis River for 12-mile narrated tours on weekends from mid-June to early October.
For more, see Riding the rails and For the love of trains.
Last updated on January 20, 2020