Cheap fun with kids
Want to have a good time with your children? Then go back to the basics.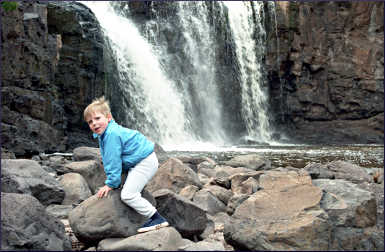 When it comes to travel, it costs a lot less to make kids happy than parents think.
Oh, kids are happy to let adults spend money on big-ticket trips — Disney World, Six Flags, the Wisconsin Dells.
But what do they prefer? It's elemental, my dear parents: rocks, water and sand.
No matter where I took my own kids, they always gravitated to places where they could poke around on their own — cobblestone beaches, sand dunes, river gorges, rock outcroppings.
When they were little, they'd squat and start sifting through pebbles wherever we'd stop.
When they were older, they'd eschew arcades and entertainment centers to jump between boulders or slide down dunes. It was amusing — and easy on the wallet, too.
When they got older, I had them rate the local trips we've taken over the years, and their choices were surprising.
The Badlands and Black Hills were the top pick for Peter ("Climbing is fun," he wrote on his survey), followed by Duluth ("climbing") and Milwaukee, where we climbed on lakefront rocks and saw a Brewers game.
For Madeleine, Minnesota's North Shore was No. 1 ("so fun"), followed by a tie between Duluth ("Everybody loves Duluth"), the Circle Tour of Lake Michigan ("very good trip") and Door County ("lots to do; beautiful").
Wisconsin Dells made their Top 10, barely, but the Boundary Waters and Circus World Museum in Baraboo didn't, though I know they liked them.
They liked Chicago and Madison, too, though each town made only one list.
It could be because those places don't have a lot of rocks, but I think it's also because the "attractions" aren't as attractive to kids as their own explorations. My kids, anyway, would rather explore on their own than be shepherded around by a parent or guide.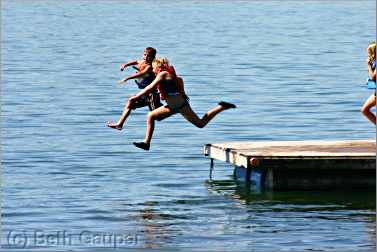 Their favorite week of the year was spent at a lake resort in northern Minnesota, because they got cut loose to find their own fun. The place has everything they like: rocks, water and sand, plus other kids.
When they were little, they splashed in the water and played with a shovel and bucket in the sand.
When they grew older, they swam to the raft, paddled kayaks and biked on the nearby trail.
Then, they played cutthroat volleyball, hung out in the wood-fired sauna and stayed up late with the other teens.
Whatever it is, the kids decide what they'll do. One year at our lake resort, kids were flitting all over the place as I sat on the beach with Michelle Rademacher of Blaine, Minn., whose young daughter, Carly, rarely was seen without a fishing rod in her hand.
"We went to Disney World this year, and I asked my kids, 'If you could go to Disney World or the cabin, which would you pick?'" Rademacher said. "And they said, 'The cabin.' "
My children's Aunt Lynn lives in Orlando, so they've done Disney and more. They've seen the sights in Europe and Mexico as well as New York, Colorado, Utah, Oregon, Arizona and Washington, D.C.
But if they had to pick only one place to go, it'd be Minnesota lakes country in a heartbeat.
For them, that's where all good things come together.
For more ideas, see 15 great places for kids in Wisconsin and 15 great places for kids in Minnesota.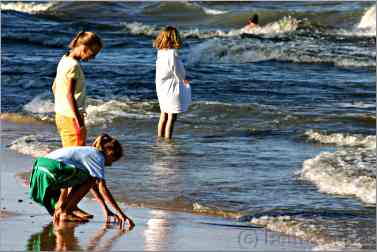 Water
A week at a lake resort is the best possible vacation for kids.
Use search engines to find a resort you'll like: On the Community of Minnesota Resorts website, for example, I get 41 possibilities when I ask for a resort with a beach, game room and children's activities.
You can also search for last-minute openings and resorts with campgrounds.
The CMR is a group of family-owned and -operated Minnesota resorts. There are also search engines at Explore Minnesota and Travel Wisconsin.
People in Minnesota and Wisconsin take these lake resorts for granted, but be warned: Theme parks always will be around, but family resorts are disappearing. Let's help keep them in business, so everyone can have a week at the lake.
If you can't afford a week at a resort, ask about partial weeks; many resorts allow short stays at the end of summer.
If you can't afford a short stay, go camping; many campgrounds are much like resorts.
And some campsites in national and state forests have their own pine-fringed beaches, like the ones on Cass Lake's South Pike Bay, which is on the paved, 17-mile Migizi Trail, where kids can bike or skate.
Rocks
There's just something about kids and rocks. My kids have loved them ever since they could crawl, maybe because they were both so close to the ground. Even today, my tech-loving daughter is thrilled by ordinary pieces of basalt, not to mention quartz and agates.
Duluth is a lode of climbing rocks, which can be found along the shoreline in Canal Park and also on the eastern edge of town, on Brighton Beach in Kitchi-Gammi Park.
Kids love all of the beaches on the North Shore.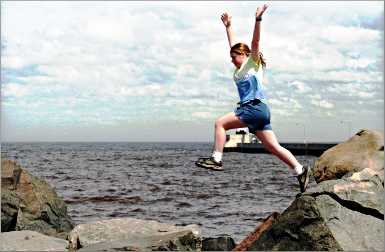 Farther up the North Shore, the volcanic outcroppings of Lighthouse Point in Two Harbors are good for clambering around, and so is the rock at Gooseberry Falls State Park in summer (bring old sneakers or water shoes) or winter.
The pebble beach in front of Lutsen Lodge holds all kinds of treasures, and agate-hunters should check out the mouth of the Beaver River, just east of Beaver Bay, and Cutface Creek Wayside, west of Grand Marais.
The best playground of all is Artists' Point in Grand Marais, a pile of fractured rock Peter once called "my idea of the perfect place to play."
If you have time, keep going into Ontario and around to Michigan and Wisconsin: The Circle Tour of Lake Superior is one of the very best trips to take with kids, even small ones, because there's always a pebble beach to stop at.
For older kids and adults, there are fur posts, shipwrecks, lighthouses and ore boats to watch.
For a trip in Minnesota, drive over to Interstate State Park at Taylors Falls, where your little Pebbles and Bam-Bam can explore a rocky playground that includes the Devil's Parlor, the Bake Oven and the 67-foot Bottomless Pit.
In Wisconsin, just south of the Dells, explore Devil's Lake State Park.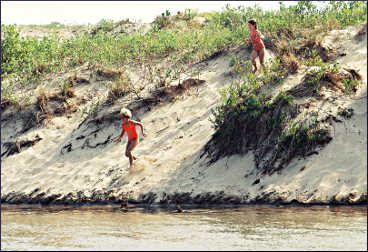 Sand
When my daughter said the Circle Tour of Lake Michigan was her second-favorite trip, I was shocked, because she's generally not fond of following her mother from one new place to another.
But she liked it all, citing the meat pasties on the Upper Peninsula, the hilltop fort and pebble beaches of Mackinac Island and the sand at Sleeping Bear Dunes National Lakeshore.
Unlike Minnesota's North Shore, the leeward side of Lake Michigan has sand, tons of sand. It's lined by beaches, including Sleeping Bear Dunes, a 35-mile-long playground.
Kids in particular like to do the Dune Climb, up a 150-foot inland dune that seems to rise out of nowhere.
They like to walk to the 450 Dune, a sheer wall of sand that falls 450 feet into Lake Michigan. They like to hang out at the mouth of the Platte River, where they can run down small dunes into the crystal-clear water and dart between the warm Platte and cold Lake Michigan.
My friend Rebecca took her three children on a trip to Sleeping Bear Dunes, camping in the state parks that line the coast, and she reports they adored the dunes — climbing and digging but mostly playing soccer on them, even sacrificing swim time so they could play more.
And of course, they loved taking the S.S. Badger car ferry across Lake Michigan between Ludington, Mich., and Manitowoc, Wis.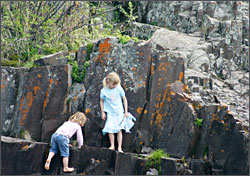 For more, see Lake Michigan with kids.
There are more big dunes on the Upper Peninsula of Michigan, in the little fishing village of Grand Marais. Just to the west, at the edge of Pictured Rocks National Lakeshore, the 300-foot Grand Sable Dunes rise at the edge of Grand Sable Lake.
They're a stop on the Circle Tour of Lake Superior. On the other end of the national lakeshore, in the town of Munising, there's a good swimming beach at Sand Point, with a delicate 50-foot waterfall to see on the way.
In Duluth, hike the four-mile Park Point Trail, on the spit of sand that created Duluth-Superior Harbor.
Starting at the airport, across the Aerial Lift Bridge from Canal Park, it passes through a thicket of red pine and emerges onto sand dunes, which my kids like to schuss down on their feet, like snowboarders.
There are smaller dunes beyond, but watch out for poison ivy. At the end of the trail, at the Superior Entry, a breakwall curves around a polished-pebble beach that also holds a trove of bleached driftwood.
Most of these places cost nothing to visit. Time, however, is precious.
Go now, because soon enough, your kids will be gravitating not to rocks and sand but to iPods and iPhones. And that will be a hard place, indeed.
Last updated on July 2, 2020