Best of spring
When warm weather arrives, it's time to tiptoe through the tulips.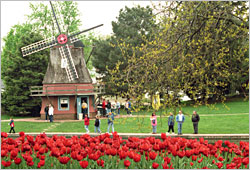 Winter seems interminable, and cabin fever hits hard. When spring finally gets here, the challenge will be to get out there and enjoy it in the short window before summer gets here.
What to do? Go on a spring drive, see fiddlehead ferns unfurl and surround yourself with that delicate shade of chartreuse that seems to tint the air green.
Look for wildflowers, kayak on cattail-lined creeks, stalk morel mushrooms and watch Dutch dancers clogging on the street.
Here are our picks for the best spring things to do in 2023.
Best festivals: Spring is prime time for heritage festivals.
In Iowa's Amanas, Germans celebrate Maifest *May 6-7. In Pella, the Dutch celebrate Tulip Time May 4-6. Norwegians in Minnesota's Spring Grove and Westby and Stoughton in Wisconsin celebrate Syttende Mai May 19-21.
Best scenic drive: May is cherry-blossom time on the Old Mission Peninsula in Michigan's Grand Traverse Bay, near Traverse City. On a drive to the tip and back, you'll see a lighthouse, a mission church, an old-time general store, horse farms and many wineries — be sure to stop and sample.
Twin Citians love the 70-mile drive around Lake Pepin, a wide spot in the Mississippi that's lined with picturesque towns and villages.
Best bicycling: You can't beat the Root River Trail in southeast Minnesota, lined by lilac bushes and limestone outcroppings. As you ride, keep an eye peeled for newly dead elm trees; you may find morel mushrooms hidden underneath.
In Minneapolis, take a spin on the Grand Rounds, which passes the Eloise Butler Wildflower Garden and Quaking Bog in Wirth Park, as well as the Chain of Lakes.
In the western suburbs of Chicago, ride the 40-mile Fox River Trail through riverside parks and towns.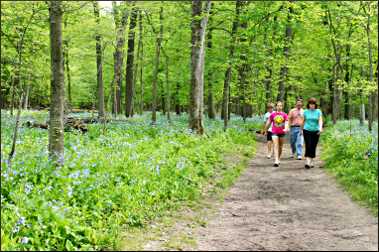 Best hiking: Not every hike has to be through a park or wilderness area. One of my favorites in spring is the 20-mile shore path around Geneva Lake in southeast Wisconsin, a resort area that gets crowded (and expensive) later in the season.
When we hiked it over Memorial Day, it was lined with tulips, flowering trees and pasqueflowers — and mansions, of course — and barely anyone was there.
For more dramatic scenery, head for Starved Rock State Park along the Illinois River, where the canyons are carpeted with bluebells.
Best waterfalls: Look north for these. In fact, the best one is half in Canada: High Falls in Grand Portage State Park, at the tip of Minnesota's North Shore.
They're also roaring across northern Wisconsin, from Big Manitou Falls in Pattison State Park to Copper and Brownstone Falls in Copper Falls State Park.
Best wildflowers: Try to catch the display of jeweled shooting stars in southwest Wisconsin's Perrot State Park, adjoining Trempealeau: It's stupendous. Expect to find them in mid-May, but call the park before you go.
Nearby, you can find woodland and prairie blooms on Mound Prairie SNA, a goat prairie in southeast Minnesota, on the Historic Bluff Country Scenic Byway between Houston and Hokah.
Just to the north, Whitewater State Park is the go-to park for spring ephemerals and morel mushrooms. It holds wildflower walks in May, and Bluebell Festival in neighboring Carley State Park usually is held on Mother's Day.
For a completely different array of blooms, head to Ridges Sanctuary in Door County in late May and early June. Its unusual land forms give it rare orchids, bog plants and endangered wildflowers, such as the dwarf lake iris.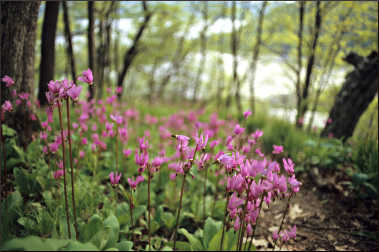 If you miss the spring ephemerals in the south, you can find them a few weeks later on Minnesota's North Shore of Lake Superior, along with rare boreal blooms.
Best morel-hunting: It's wherever you find them, and finding them is the trick. Whitewater State Park and the adjoining wildlife area is famous for morel mushrooms, so start there.
For guaranteed morel-finding, go to a festival. Many have guided hunts, and you can always buy them.
Michigan calls itself the morel state. Mesick holds Mushroom Festival May 12-14 and Boyne City its National Morel Mushroom Festival May 18-21.
And on the Wisconsin River, Muscoda holds Morel Mushroom Festival May 19-20.
Best road trip: In April, we celebrate Earth Day, which was founded by Sen. Gaylord Nelson of Wisconsin, which also gave us conservationist Aldo Leopold and John Muir, founder of the Sierra Club.
So spring is a good time to head for the Baraboo Hills in south-central Wisconsin and take what I call the Muir Tour, a greatest-hits tour of conservation success.
It includes stops at Leopold's famous shack, the former homestead of John Muir's family, the International Crane Foundation and Parfrey's Glen, the state's first natural area.
Or, pick out some of Wisconsin's Rustic Roads to explore. My favorites are around La Crosse, and there are other clusters in Door County, the southeast tip of the state and in Polk and Burnett counties in the west.
Best shopping: Since we all love a road trip in spring, why not kill two birds with one stone? The 70-mile drive around Lake Pepin is a favorite destination, and that'll be part of the 100-Mile Garage Sale, May 4-7.
And in the scenic bluffs of southeast Minnesota and northeast Iowa, the Bluff Country Studio Art Tour is April 28-30.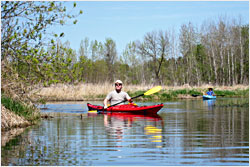 Best paddling: After snowmelt, rivers are pretty lively everywhere. But you might as well choose a southern river that tends to get low as summer wears on — say, the Upper Iowa near Decorah, lined with stone chimneys and palisades that look more like Utah than Iowa.
In the northern suburbs of the Twin Cities, the Rice Creek Water Trail is just off I-35W, but you'll see few houses as you follow its 23-mile path toward the Mississippi River in Fridley.
It's also fun to paddle down the twisting Kickapoo in southwest Wisconsin, whose orchards are covered with apple blossoms in spring. It's also a quieter time; later in the year, the canoe flotillas frighten away the abundant wildlife.
Best agate-hunting: It's pretty much always good in the eastern Minnesota town of Moose Lake, where hunters can get free permits to look in three gravel pits.
To see what you're looking for, head for the Agate Geological and Interpretive Center in Moose Lake State Park.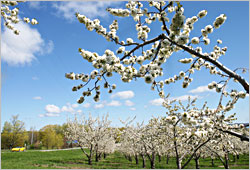 But the beaches of the North Shore have much better scenery, and the best time to look is at the end of winter, after storms have deposited a fresh layer of rubble on beaches. Just bring warm clothes.
Best birding: Serious birders go nuts in April and May, because there's so much to do and so many bird festivals to attend.
One of them is the Chequamegon Bay Birding & Nature Festival, based in Ashland in northern Wisconsin, May 18-20. It also offers descriptions of self-guided bird walks in the area, with accompanying map, that birders can use any time.
Best camping: Since spring weather is so unpredictable, make a reservation at a camper cabin or yurt, which will give you a roof. They book up fast for summer weekends, but not so much in spring.
Michigan, Minnesota, Iowa and Illinois have lots of them; Wisconsin has only a few "indoor group camps."
Iowa also has many cabins with kitchens and baths that go for $50, about the same as a camper cabin. We like the ones in Backbone State Park, which has a beautiful lakeshore path and a wide array of spring ephemerals in May.
Best cheap trips: For ideas, see Cheap spring getaways.
Last updated on January 23, 2022