15 great fall drives
Chase the colors through glorious autumn landscapes.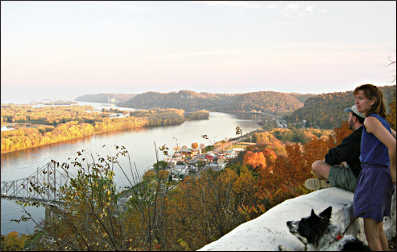 On a crisp, sunny fall day, we all get the urge to go for a drive.
The countryside is alight with color, and there's a lot going on — art-studio tours, corn mazes, hay rides and harvest festivals in every little town.
And you'll be chasing the colors, of course.
You probably could throw a dart at the map and find a pretty spot, but here are 15 routes that we think are especially beautiful.
If fall color doesn't materialize when you expect it to, don't worry: These drives are pretty great any time.
For more ideas, see our Scenic Byways and Road Trips stories.
For tips on when to go to see the best color, see Pursuing the hues.
For driving distance from your house to starting points, use Travel Math.
Iowa
For more great routes, see all of Iowa's Scenic Byways.
Grant Wood country
Drive amid the rolling hills of eastern Iowa and you'll get the feeling you've seen it somewhere before — and you have, in the paintings of artist Grant Wood, who was born in Anamosa, founded an artists' colony in Stone City and worked in a studio in Cedar Rapids.
The Grant Wood Scenic Byway stretches 68 miles, from Anamosa to Bellevue on the Mississippi River. The most scenic part is around Anamosa; be sure to take Iowa E-28 west of Anamosa to Stone City on the Wapsipinicon River, and in Anamosa, stop to see the castle-like state penitentiary.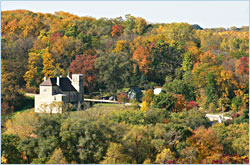 To people who think Iowa is flat, the state's northeast corner will be a revelation.
Lining the Mississippi is a procession of softly rounded bluffs, reminiscent of the Rhine Valley. From their 500-foot peaks, visitors can admire panoramas of the vast river plain below.
Start in the hillside town of Lansing, where Mount Hosmer City Park gives a spectacular front-row view of the river and the valleys and ridges beyond.
Follow the river south to Effigy Mounds National Monument, where interpretive trails lead to the 137-foot-long Great Bear Mound, one of 191 ancient burial mounds built on the blufftop.
Marquette is below, tucked under the bridge, where the gaudy Lady Luck casino boat is docked. McGregor is just down the road, sitting in a little bowl hugged by limestone-pocked bluffs on each side.
Called the Pocket City, it's filled with old brick storefronts that house antiques shops and inns. On the bluffside outside town, tour Spook Cave in aluminum fishing boats.
High above McGregor, the hiking trails of Pikes Peak State Park offer more vistas of the river plain.
From Pikes Peak, a roller-coaster ride through bucolic farmland leads to Guttenberg, still lined with stolid limestone storefronts built by early German settlers. It celebrates GermanFest on Sept. 22-23 in 2023.
Lock and Dam No. 10 is here; you can watch the barges from the gazebo in Guttenberg's lovely riverside park.
For a loop, take the car ferry across the river at Cassville and make your way up the Wisconsin side to Prairie du Chien.
Touring historic barns
Iowa has taken the lead nationwide in preserving barns, and they come in every shape, size and color in this farm state.
You can drive by them at any time, but on the last full weekend in September, more than 70 of them, including eight round barns, across the state are open during the All-State Barn Tour, Sept. 16-17 in 2023.
For more, see Barn storming.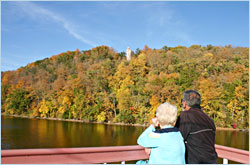 Northern Illinois
Towns of the Rock River
For centuries, the Rock River has been an important highway, mostly notably for the Sauk chief Black Hawk. High in the bluffs above Oregon, a 48-foot concrete pays tribute to him.
Drive up to Lowden State Park to see him or take a cruise on the Pride of Oregon paddlewheeler. The Autumn on Parade fall festival is Oct. 7-8 in 2023.
Head south on Illinois 2 to Castle Rock State Park and Grand Detour, home of the John Deere Historic Site.
Dixon is just around the bend from Grand Detour. It's the boyhood home of Ronald Reagan and the most important stop on the Ronald Reagan Trail, which includes 12 other northwest Illinois towns.
A third state park is seven miles west of Oregon. White Pines Forest State Park is a lovely oasis of pine forest, creeks and rock outcroppings amid the rolling farm fields. In fall, the park is cloaked in bright reds, oranges and golds.
For details, see On the Rock River in Illinois.
Keep going north and you'll hit Rockford and the Illinois border; keep going south and you'll get to Rock Island and the Iowa border.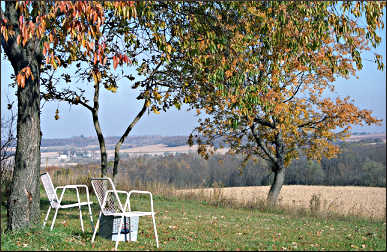 History and a high point
By late October, the trees are nearly bare in the north woods. But in northwest Illinois, the oaks hang onto their burnt orange and russet leaves well into November.
It's also a striking landscape, part of the Driftless Area. The state's high point is near Scales Mound, almost on the border, and roads follow ridgelines.
From Warren, on Illinois 78 in the northeast corner of Jo Daviess County, follow Stagecoach Trail past Scales Mound (unfortunately, the high point is privately owned and open to visitors only on first weekends from June through September) and into historic Galena, known as the home of Ulysses S. Grant.
Galena holds its Oktoberfest Sept. 30 in 2023, and the Galena Country Fair Oct. 7-8 in 2023.
From Galena, take U.S. 20 east to Elizabeth and the Apple River Fort, which tells the story of the day in 1832 when Black Hawk and his band attacked the town.
Continue east to Stockton or drive six miles north to Apple River Canyon State Park.
To lengthen your drive, make a loop into the old lead-mining district just over the border in southwest Wisconsin, from Shullsburg to New Diggings, Dickeyville and Potosi.
For details, see Road trip: Southwest Wisconsin.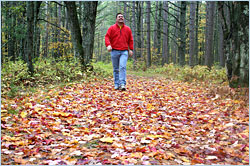 Wisconsin
For more great routes, see Wisconsin's Rustic Roads. Travel Wisconsin suggests these 11 scenic drives.
Wisconsin River
Between Merrill and Tomahawk, Wisconsin 107 closely follows the river.
Just west of Merrill, stop in Council Grounds State Park for a hike along the river. Halfway to Tomahawk, your route crosses the Ice Age National Scenic Trail  and a gorgeous marsh.
Many tamaracks line this route, so it's a good one to take later in fall, when the tree's needle-like leaves turn bright yellow.
Another good route along the Wisconsin River is from Prairie du Sac to Spring Green (and beyond). For more, see Road trip: Wisconsin River.
Holy Hill in the Kettle Moraine
The first time I heard this mentioned, I thought it was a hill on the Ice Age National Scenic Trail. The conical hill is - it's a moulin kame, the highest peak on a chain from Door County to Madison — but Holy Hill is a basilica, built in 1930.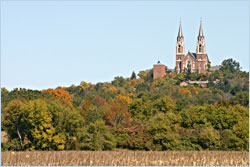 It's the Neuschwanstein of Wisconsin, most breathtaking from a distance. You should see it first from the south, where it rises majestically from golden corn fields, then drive up the hill, park and climb the 176 steps up the Scenic Tower.
On a clear day, you'll see Lake Michigan and the Milwaukee skyline, 35 miles to the southeast. For more, see 15 great fall views.
If you're there later in October, stop to see the Holy Hill Skeletons Halloween display at 5256 Wisconsin 167.
From County Road K south of Holy Hill, drive east on Shamrock Lane, one of the four prongs of Rustic Road 33. It winds through a canopy of trees and over Flynn Creek to Emerald Road. Then head north and onto County Road CC.
Turn west again on County Road E, then take Kettle Moraine Drive to Pike Lake, a kettle lake in a state recreation area that's very popular for hiking, camping, swimming and picnicking.
On fall weekends, Wisconsin 42 through Egg Harbor, Fish Creek and Ephraim is packed. So get off the main drag and into the rural, pastoral interior of this peninsula.
From Ephraim, take County Road Q to the Lake Michigan side and Cana Island Lighthouse, whose white tower rises at the end of a rocky causeway.
Just outside Baileys Harbor, Ridges Road leads to Ridges Sanctuary, a nature refuge marked by the harbor's 1869 lower range light.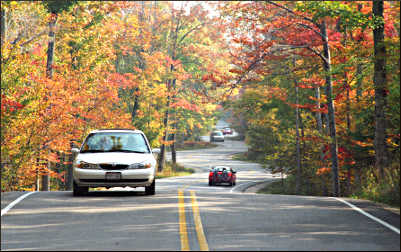 From Baileys Harbor, take Wisconsin 57 south to Jacksonport, then Lakeshore Road to Cave Point County Park and Whitefish Dunes State Park.
Or follow County Road F west to Fish Creek and Peninsula State Park, in which Shore Road winds past the 1868 Eagle Bluff Lighthouse and wooden Eagle Tower, which gives everyone who climbs it a panoramic view of Green Bay, Horseshoe Island and Ephraim.
A more secluded route includes beautiful leaf color along roads at the "tip of the thumb."
From Ellison Bay, take Garrett Bay Road to Hedgehog Harbor, just short of Porte des Morts, or Death's Door. Cottage Road leads to Gills Rock and joins Wisconsin 42, which ends at the ferry landing in Northport.
From there, Porte des Morts Road leads to Park Lane, which leads to Weborg Park, a tiny park atop a rocky beach. Heading west, take Park Drive to Timberline Drive and south to Europe Bay Road.
From there, choose one of three options: head east to Europe Bay beach in Newport State Park; go south on Newport Drive to a lovely hiking trail in the Mink River Estuary; or drive west back to Wisconsin 42.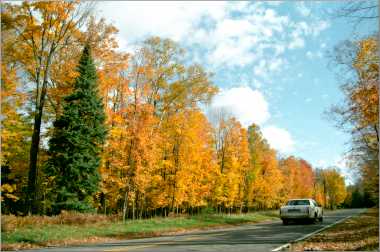 The forests around this sporty town in northwest Wisconsin have one of the region's most reliable displays of fall color, with tamaracks supplying golden colors through mid-October.
The town maps out several fall-color routes, some of which cross the North Country National Scenic Trail for hiking and CAMBA trails for mountain biking.
We like to take County Road M east of Cable to Garmisch Road, from which the two-mile Forest Lodge Nature Trail starts.
From M, County Road D heads north along Namekagon Lake to Grand View, where there's a statue of Chief Namekagon and a plaque about his legendary silver mine.
From there, U.S. 63 heads south to Cable, where the Cable Natural History Museum is worth a visit. Cable's Fall Fest is Sept. 29-30 in 2023.
In the northwest corner of Wisconsin, the Ice Age left a  string of mementos — the state's highest waterfalls.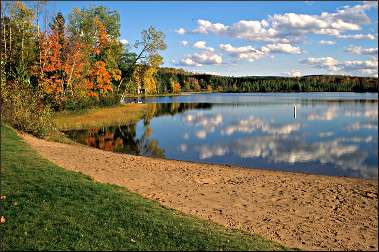 From the port town of Superior, go 15 miles south on Wisconsin 35 to Pattison State Park, where 165-foot Big Manitou Falls is the highest in Wisconsin and the fourth-highest east of the Rockies.
The 31-foot Little Manitou Falls also is in the park, a mile upstream along hiking trails.
From Pattison, it's 17 miles to Amnicon Falls State Park. Take County Road B east, then County Road K north to South Range, then head east to U.S. 2 and the park, where Upper Falls and Lower Falls ripple along the Amnicon River.
For more falls, head east to Morgan Falls south of Ashland and Copper Falls State Park near Mellen.
Minnesota
For more great routes, see all of Minnesota's scenic byways.
Heading south of Rochester on U.S. 52, motorists begin to spot outcroppings of golden limestone on the face of the hills. Pumpkin stands pop up along the road, then the buggies of Amish women selling homemade goodies. This is Minnesota's bluff country.
Historic Bluff Country Scenic Byway heads east from Spring Valley through cave country, to the bicycling hub of Lanesboro and on to Houston and La Crescent on the Mississippi River.
We'd make a loop by heading south of Lanesboro on County Road 21 to Canton (stop for fresh cashew crunch if you see an Amish stand). From there, drive east on U.S. 52 to the Norwegian town of Spring Grove.
From there, drive south on County Road 16 to Dorchester, Iowa, returning on 76 go Caledonia.
Or head north of Spring Grove on twisty County Road 4, past Black Hammer and Yucatan, following the South Fork of the Root to Houston.
There really isn't a road that isn't scenic in this area. If you have a good map, be adventurous and take any road that strikes your fancy.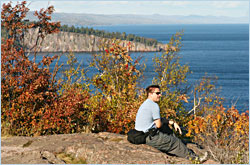 This is without doubt the most popular fall drive in Minnesota. With good reason — every mile of this 150-mile route from Duluth to the Canadian border is scenic. In fact, it's a national byway.
The colors aren't that great along Lake Superior, and many of the birches are dying. But the views . . . well, they're to die for.
Add art to the scenery during the Art Along the Lake: Fall Studio Tour between Schroeder and Hovland, with many stops in Grand Marais. It's Sept. 22-Oct. 1 in 2023.
For more, see Colors of the North Shore. For a list of highlights, see North Shore by the mile.
When many people arrive in Duluth, they're fixated on heading up the North Shore.
But there's a gorgeous drive right in Duluth, 500 feet above Lake Superior along the ridgeline that once was the edge of Glacial Lake Duluth.
It's Skyline Parkway, which passes many of Duluth's landmarks. On the west end, you'll get panoramic views of St. Louis Bay from Ely's Peak and Bardon's Peak, and you can stop at Spirit Mountain for a ride on the Timber Twister alpine slide.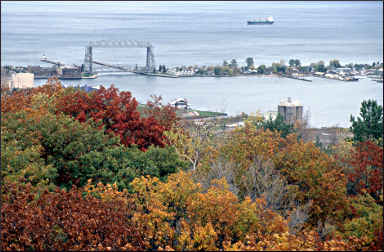 In Enger Park, climb the tower or sit in the gazebo to take in a sweeping view of Canal Park.
At Hawk Ridge, stop to watch the migration and talk to the naturalists who are there counting and banding raptors every day in September and October. At the east end, Seven Bridges Road ends on Superior Street.
On this drive, there's never a dull moment and always a spectacular view.
Minnesota and Wisconsin
For fall scenery, it's hard to beat the St. Croix River, which forms the border of the two states.
Start on the Minnesota side in Hastings, at the confluence of the Mississippi and St. Croix. Drive up County Road 21, past many orchards, to Afton State Park and the sleepy village of Afton.
Stillwater has a busy downtown filled with shops and hills lined with painted-lady Victorians.
Follow Minnesota 95 north along the river to Marine on St. Croix and Taylors Falls, at the head of the Dalles of the St. Croix.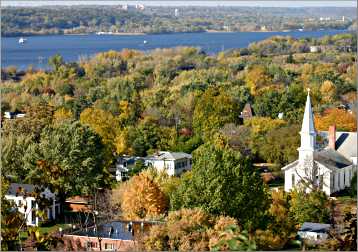 On each side of these Dalles — dalle is French for rocky slab — is a beautiful state park filled with potholes and boulders on which kids love to climb.
Cross the bridge and continue down the Wisconsin side of the river, through Osceola and Hudson, which has many shops and restaurants and a lovely riverfront park.
The best time to do this drive is the last full weekend of September. Just west of Taylors Falls, stop by the 43-acre Franconia Sculpture Park for the annual Art & Artists Celebration, in Afton for Afton Art in the Park and Hudson for the Spirit of the St. Croix Art Festival.
Michigan
This nine-mile drive along the raised spine of Michigan's Keweenaw Peninsula, lined by stonework walls built by the Civilian Conservation Corps in 1933, is famous for its views of Lake Superior and interior lakes.
From Eagle Harbor, the drive rises to an overlook, with plaques and gift shop, then descends into Copper Harbor.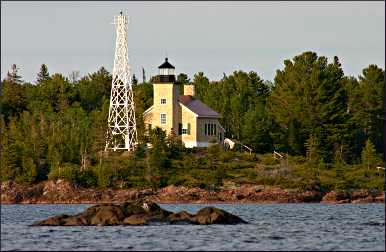 Return on Lakeshore Drive, which is even more scenic. The narrow road hugs the lake, passing rocky Esrey Roadside Park, Dan's Point and Agate Beach.
From Eagle Harbor (stop to see the 1871 lighthouse), continue along the lake, lined by dunes and beaches, to the popular Jampot, Eagle River and the Sand Hills Lighthouse, now a B&B.
In addition, drive the 18-mile Covered Drive on U.S. 41 from Delaware to Copper Harbor, the state's first Scenic Heritage Route. Then head for the eastern shore of the peninsula through Lac La Belle. Soft red and pink sandstone beaches line the road along Oliver Bay to Gay; pull over and explore for a while.
There's also the unpaved Covered Road west of Houghton, through a tunnel of trees to the ghost town of Redridge and on to Lake Superior.
Across the Mackinac Bridge and south of Mackinaw City, U.S. 31 barrels straight south, but M-119 follows Lake Michigan.
It's 27½ miles between Harbor Springs and Cross Village on a road that's twisting and narrow, barely wider than a bicycle trail (and, in fact, watch for bicyclists). You'll see a few glimpses of the lake, but mostly you'll see trees, trees and trees.
In Cross Village, have a lunch of Eastern European comfort food at the Legs Inn, or pick up a snack at the Good Hart General Store. Whatever you do, don't hurry.
Want more scenery? Just keep going along Lake Michigan. For details, see Circling Lake Michigan.
Last updated on September 20, 2021