Art al fresco
When warm weather arrives, art fairs start to pop up everywhere.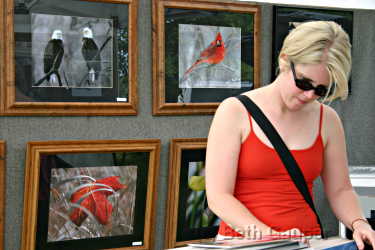 We all know what summer means — days at the beach, boat rides, marshmallow roasts . . . and shopping.
Not at malls but under the little white tents that pop up wherever there's a festival, on the shores of lakes, in parks and on picturesque town squares.
That's where the region's most accomplished potters, glass makers, jewelers, painters, weavers and photographers bring out their wares and make themselves available to whoever cares to stop — customers, passersby, admirers.
At Duluth's Park Point Art Fair, set up near the end of the sand spit that forms Duluth's harbor, Frank Garcia of Duluth cast himself into the last category. He went from one photographer's booth to another, looking enviously at beautifully composed portraits of wildlife, flora and landscapes.
At each booth, he stopped to chat with the artist.
"Even if I don't buy, I've seen some beautiful things by the end of the day," Garcia said. "They're interesting people who interact with life in a completely different way."
For shoppers, it's a golden opportunity to get to know interesting artists and to see new works by artists they already know.
At Park Point, I was glad to see photographer Jim Gindorff of St. Paul, because I'd wanted a framed print of his striking "Oak Leaves"' ever since I'd bought the image on a greeting card at the Northfield fair two years earlier.
Luckily for Gindorff, most people don't spend that long deliberating about spending $120.
"I've had people coming through on their way to their cabin in Grand Marais, and they'll say, 'I'll take this one and this one and that one,' and I'll think, where do they get their money?" he said. "I don't try to talk them out of it, though."
As I walked along, chatting with the artists and collecting postcards of art I might want to buy someday, a harpist played. Children played on a giant wood ore boat, and vendors sold gyros and kettle corn.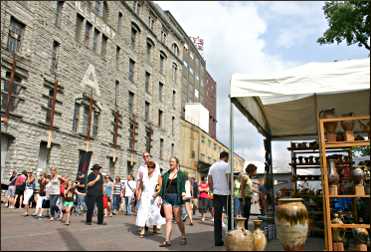 Nearly every art fair offers food and entertainment, especially those that are part of a community festival. But each has a different character.
Many of the fairs are very popular, and people who plan to build a summer weekend around one should reserve lodgings ahead of time.
Trip tips: Outdoors art fairs
Below is a guide to some of the best outdoors art fairs in the region. All are in attractive settings and in towns that have many attractions for tourists. All are juried.
People who want to visit summer art fairs in popular weekend destinations — Duluth, Grand Marais, Bayfield, Ely, Red Wing, Madison — should reserve lodgings in the spring.
Here are dates for some of the best fairs in 2023 .
For a list of fall studio tours, see Autumn in the studios.
MAY
May 13, Spring Fair on the Square in Baraboo, Wis. near Wisconsin Dells. While you're there, visit Circus World Museum, the International Crane Foundation and Devil's Lake State Park.
For more about the area, see Baraboo's gilt complex.
JUNE
June 2-3, Street Faire at the Lakes in Detroit Lakes, Minn. There's music and food as well as art in this western Minnesota resort town.
June 2-4, Edina Art Fair in Edina, Minn. The annual show at 50th and France in this southern Minneapolis suburb draws 375 exhibitors and 60,000 people.
June 2-4, Iowa Arts Festival in Iowa City, Iowa. More than 130 regional artists sell at this downtown festival, which includes, music, dance, children's activities, a Global Village and a Culinary Row.
June 3, St. Anthony Park Arts Festival in St. Paul. This festival in the charming St. Anthony Park neighborhood features more than 70 artists, music and food.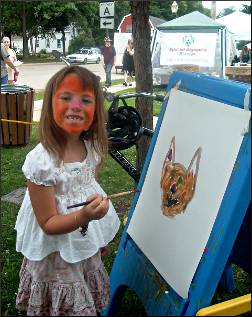 June 10-11, Art on the Lake in Excelsior, Minn. The show in this western Minneapolis suburb has a lovely setting in a park on Lake Minnetonka, near a sand beach, a playground and tennis courts.
For more, see Cruising around Excelsior.
June 10-11, Wells Street Art Festival in Chicago. The Old Town Art Fair is nearby; together, the two fairs have more than 500 exhibitors and draw 110,000 visitors.
June 17, Art in the Park in Lanesboro, Minn. Many fine artists live in and around this Minnesota bluff-country burg, a favorite of bicyclists.
For more, see The belle of bluff country.
June 17-18, Stone Arch Bridge Festival in Minneapolis. Along the Mississippi, 250 artists show their wares. There are also three stages and a car show.
For more, see On the river in Minneapolis.
June 17-18, Land of the Loon Ethnic Arts & Crafts Festival in Virginia, Minn. This Iron Range town festival features a parade and is held near Silver Lake, home of a 20-foot fiberglass loon.
For more, see On the Iron Trail.
June 17-18, Gold Coast Art Fair in Chicago. This fair, which attracts 350 juried artists, is in Grant Park.
June 18, Snake Alley Art Fair in Burlington, Iowa. The fair is held along the famously crooked street in this Mississippi River town.
June 23-25, Des Moines Arts Festival in Des Moines, Iowa. This big, juried arts fair at Western Gateway Park includes a jazz and wine pavilion, film festival and interactive arts projects.
June 23-25, Grand Haven Art Festival in Grand Haven, Mich. Washington Avenue downtown turns into an art gallery, and there are free arts activities for children.
June 24-25, Art Experience in Wayzata, Minn. More than 100 juried artists show their work in the pretty downtown of this Minneapolis suburb on the shores of Lake Minnetonka.
June 24-25, Spring Green Arts & Crafts Fair in Spring Green, Wis. This arts community along the Wisconsin River also is the home of Frank Lloyd Wright's Taliesin, House on the Rock and the American Players Theatre.
For more, see Drawn to Spring Green.
June 24-25, Park Point Art Fair in Duluth. It's held across the Aerial Lift Bridge, on the sand spit that creates the harbor.
For more, see Duluth stories.
JULY
July 1-2, South Haven Art Fair in South Haven, Mich. More than 100 artists show their wares in Stanley Johnston Park.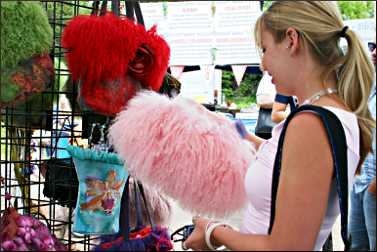 July 8, Art at St. Kate's in St. Paul. This small, mellow festival on the lawn of St. Catherine University in the Highland Park neighborhood also features music and food.
July 8, Fine Art & Craft Fair in Pentwater, Mich. The juried fair in this Lake Michigan town is held on the Village Green downtown.
July 8-9, Art on the Square in Madison. This is a huge event, with nearly 500 exhibitors, but a universal favorite.
For more, see Summer in Madison.
July 8-9, Arts Festival in Grand Marais, Minn. This small festival is very popular for its beautiful setting on a Lake Superior harbor.
For more, see Artistic Grand Marais.
July 8-9, Phelps Mill Festival east of Fergus Falls, Minn. This is one of western Minnesota's most popular festivals, held in a bucolic county park along the Otter Tail River, next to a restored 1889 flour mill and general store. There's a high proportion of crafts.
For more, see Otter trail country.
July 14-16, Minnehaha Falls Art Fair in Minneapolis. At this fair in Minnehaha Falls Park, each of 150 booths includes items that cost less than $30. There's also live music and food.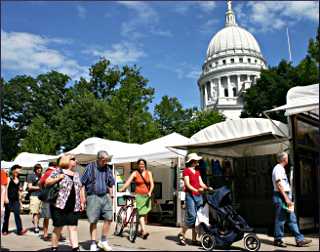 July 15, Stockholm Art Fair in Stockholm, Wis. This tiny village on Lake Pepin hosts a small but beloved festival.
For more, see Destination: Stockholm
July 15, Lake Mills Arts Festival in Lake Mills, Wis. The show in this town, half an hour east of Madison near the Glacial Drumlin State Trail, is held in pretty Commons Park and features Wisconsin-based artists.
For more, see Riding the Glacial Drumlin.
July 15-16, Midsummer Festival of the Arts in Sheboygan, Wis. This festival is on the grounds of the John Michael Kohler Arts Center, a few blocks from Lake Michigan and renowned for outsider and folk art.
For more, see Sights of Sheboygan.
July 15-16, Art in the Park in Bemidji, Minn. Nearly 100 artists set up in Library Park on the shores of Lake Bemidji in northern Minnesota. There's also food, music and art for kids.
For more, see Bemidji's behemoths.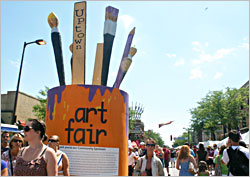 July 22, Art Sail in Clear Lake, Iowa. More than 75 juried artists set up in city park next to the lake. This pleasant lakeside town, two hours south of the Twin Cities, hosts the Iowa Storytelling Festival on the same weekend.
For more, see Clear Lake tranquility.
July 28-30, Blueberry Arts Festival in Ely, Minn. This show in Whiteside Park features more than 240 artists and crafters.
For more, see Dreaming of Ely.
July 29-30, Geneva Arts Fair in Geneva, Ill. More than 150 artists show along historic Third Street in this town on the Fox River.
For more, see Towns of the Fox River.
July 29-30, Art in the Park in Alexandria, Minn. The lakes are the traditional draw in this resorts town.
For more, see Alexandria's enigma.
July 29-30, Art on the Rocks in Marquette, Mich. This show is in scenic Presque Isle Park, a peninsula in Lake Superior.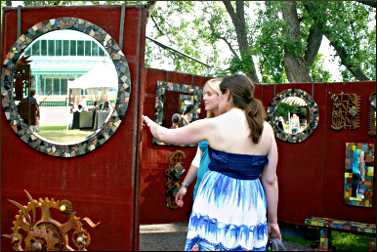 For more, see Marquette's double appeal.
July 29-30, Loring Park Art Festival in Minneapolis. This festival is down Hennepin Avenue from the Uptown Art Fair, on the edge of downtown.
AUGUST
Aug. 4-6, Uptown Art Fair in Minneapolis. This festival in this busy neighborhood near Lake Calhoun is big, with 350 exhibitors; ride a bike or take the bus.
Aug. 5-6, DubuqueFest in Dubuque, Iowa. In addition to a juried art fair in Washington Park, there's dance, music on two stages, storytelling, food and children's activities.
For more, see Destination Dubuque.
Aug. 5-6, Powderhorn Art Fair in Minneapolis. This festival is around a lake in Powderhorn Park in south Minneapolis.
Aug. 12-13, Art in the Park in Lake Geneva, Wis. More than 80 artists set up in Flat Iron Park on the lakefront.
For more, see Gawking in Lake Geneva.
Aug. 12-13, Morning Glory Fine Craft Fair in Milwaukee. The fair features 140 exhibitors on the plaza outside Fiserv Forum arena.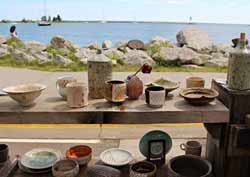 Aug. 19-20, Art in the Park in Elkader, Iowa. This fair is along the Turkey River in Founder's Park and features music, food and a children's Creation Station.
Aug. 19-20, Art & Chalk Fest in West Bend, Wis. In addition to 65 fine artists, there will be 15 national chalk artists at work, plus music, art activities and free admission to the Museum of Wisconsin Art.
Aug. 25-27, Artstreet in Green Bay, Wis. This large downtown event includes four stages and strolling performers.
For more, see Packer country.
Aug. 26-27, ArtWorks Festival in Austin, Minn. This show around the downtown power plant includes music, demonstrations and family activities.
Aug. 27, Millstream Arts Festival in St. Joseph, Minn. The juried show in this town at the start of the Lake Wobegon Trail also features music, street performances, horse-drawn trolley rides, children's art and history tours.
SEPTEMBER
Sept. 2-3, Third Ward Art Festival in Milwaukee. The festival in this historic district near downtown features 140 artists.
Sept. 8-10, Harvest Moon Festival in Ely, Minn. The art show in this north-woods town is held in Whiteside Park and attracts more than 125 artists and crafters.
For more, see Dreaming of Ely.
Sept. 9-10, Festival of Arts in Bayfield, Wis. Few settings are more picturesque than Bayfield's Memorial Park on Lake Superior. There's also a Gallery Tour, with demonstrations.
For more, see Beloved Bayfield.
Sept. 9-10, Little Falls Arts & Crafts Fair in Little Falls, Minn. This massive fair in central Minnesota includes 850 exhibitors and 100,000 visitors.
Sept. 9-10, Riverfront Fine Arts Festival in Northfield, Minn. This fair along the Cannon River an hour south of the Twin Cities coincides with the big Defeat of Jesse James Days. Don't miss the re-enactments.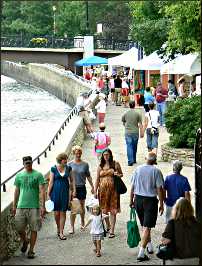 For more, see Feisty Northfield.
Sept. 9-10, Art in the Park in Wausau, Wis. This festival in Marathon Park attracts more than 120 juried artists and is part of the Artrageous weekend.
For more, see Wausau's liquid assets.
Sept. 16-17, Driftless Area Art Festival in Soldiers Grove, Wis. It's also apple season in the ridges and valleys of this part of southwest Wisconsin.
For more, see Valleys of Vernon County.
Sept. 16-17, Lakeville Art Festival in Lakeville, Minn. The fair in this town south of Minneapolis features more than 70 artists, live music and a youth art tent.
Sept. 23-24, Afton Art in the Park in Afton, Minn. This fair is small, but the St. Croix River village just east of the Twin Cities is a favorite weekend destination.
For more, see Autumn along the St. Croix.
OCTOBER
Oct. 7-8, Rivertown Fall Art Festival in Stillwater, Minn. It's held along the St. Croix riverfront in Lowell Park.
Oct. 7-8, Galena Country Fair in Galena, Ill. This down-home fair is in Grant Park, along the river; reserve lodgings far in advance.
For more, see Galena getaway.
Last updated on January 21, 2022